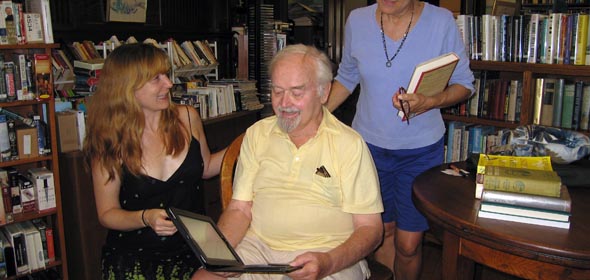 If friendly ghosts haunt the Morton Memorial Library and Community House in the hamlet of Rhinecliff, they should be happy to watch what's happening there now.
Levi Parsons Morton, the philanthropist, former N.Y. governor and 22nd Vice President of the United States, donated $50,000 to build the Rhinecliff Memorial Library in memory of his daughter Lena. When it opened in 1908, the community benefited not only from library services but also from the classes, lectures, banquets, dances, and holiday programs.
That tradition is kept very much alive today.
Steve Sansola, Associate Dean for Student Affairs at Marist College, is president of Morton's board. "It's a pleasure to work with the library staff who are dedicated individuals. We certainly understand the role that the library plays as an essential focal point in developing a community in Rhinecliff. We also try to make a conscious effort to keep in contact with Morton descendants," he said.
"The board is always challenged in getting adequate funds but have benefited from the Thompson Trust, grants, and a generous donor base from members," he added. Last year, one such grant added iPads and NOOK e-readers to the library's technological resources.
Joanne A. Meyer, the library's executive director, appreciates all the support. "We have done a lot of improvements, but some effort will always be for maintenance," she said. Much restoration has been done to the roof and the front porch, and radiant heat was installed in the basement to make the community room and kitchen perfect venues that can be rented for small parties.
"We also need a dedicated area for Morton memorabilia," she added, noting the library would welcome any such items that people may have at home.
The Children's Room is now being refurbished, and thanks to generous local donations and the skill of carpenter Todd Young, the impressive bookcases look as if they had been designed by the original architects. "In order to sustain the building," Joanne explains, "we need everybody's help. It's not just the building but what's going on inside … the buzz!"
Buzz is an understatement. The newsletter, "A Message About Morton Matters" (www.morton.rhinecliff.lib.ny.us). is a good read and promotes upcoming events. September offerings feature a discussion on the Morton family history on Sept. 16, an exhibit by the Cross River Art Group, the Morton Acoustic Show, a screening of "The Hunger Games," and a reading program on Sept. 20 featuring Pulitzer Prize-winning author Robert K. Massie
Morton Hall has also been transformed into many theater settings. The Columbia Arts Team (CAT) is dedicated to showcasing new theatrical material and local talent, and in August they needed a space to perform their new two-act comedy "Rent Hair."
Liv Cummins, one of CAT's founders, recalled, "It's a charming, intimate space. It was the perfect fit for all of us. We are excited about this new connection."
Sandy Bartlett, who has been Morton's assistant director and children's librarian since 2004, said, "My whole thing is making people happy and having them feel at home here."
She added, "Children come in and bring their littler siblings because they feel so at home and know this is their place. We are not a quiet library, it's more like a living room. People who have never had their art in a public show have been able to do so here and feel proud."
"Our library collection is small and eclectic, but we have the tremendous ability to share the resources of all 65 libraries of the Mid-Hudson Library System," Joanne said. "We are a little eccentric, just like Rhinecliff. But we take the most pride in our personal service. This is a beautiful, old, historic portal to the modern world."
82 Kelly Street, Rhinecliff
845-876-2903
mortonrhinecliff@gmail.com
Facebook Comments