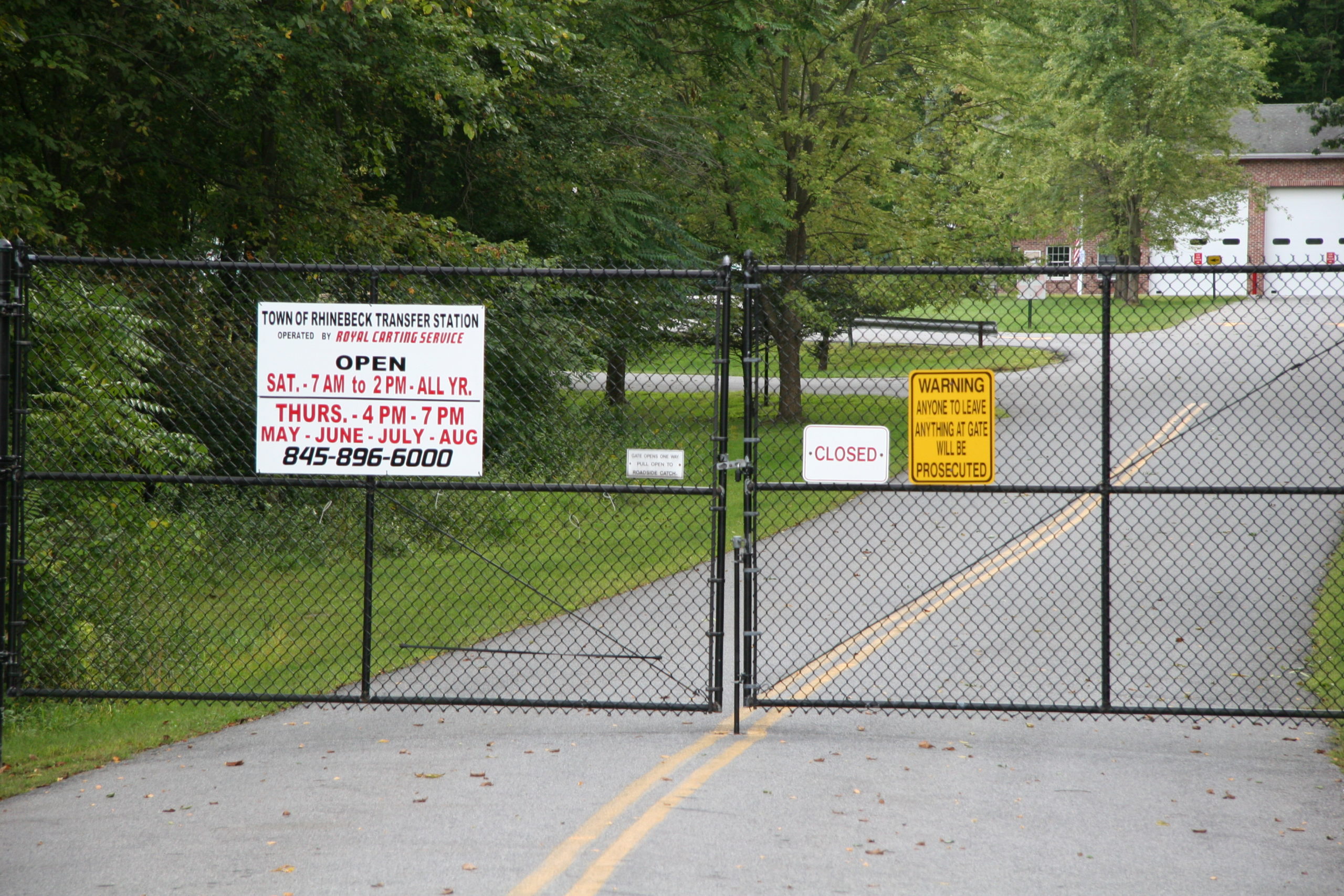 The recent outsourcing of Rhinebeck's transfer station — with a cut-back on hours — is provoking mixed reviews from residents.
On Aug. 1, the station at 376 Stone Church Rd., where people take garbage, household waste and recyclables, changed from a town-managed operation to one run by Royal Carting.
Then the station switched its hours from three days a week to only one day a week through the winter.
"I think some people were puzzled because the new hours weren't posted," said Town Council member Joseph Gelb. Monday open hours, previously 8am to 3pm, were first removed, and Thursday hours changed from 1-7pm to 4-7pm. Both days were then eliminated completely Aug. 31. The station is now open only on Saturdays from 7am to 2pm.
Town Council member Bruce Washburn admitted that there have been about 9-10 complaints about that.
Town resident Richard Gilbert said he used the transfer station about once a week and when he went there on one of the days that are now closed, there were "some irate people."
Gilbert added that he feels strongly about the change. "They removed a public service with very little notice that I was aware of," he said. "It existed to serve the public. I don't use all public services, but I'm willing to pay for them. I don't go to the town pool, but I don't expect to not pay for it."
"In a community, any kind of change takes time," said Washburn, "and Nancy and Tom Cunningham [transfer station employees who recently retired] built up something that was a part of the community."
Gilbert noted that a job and a half was removed from the roster of available local jobs by not replacing the retiring Cunninghams.
"[Not hiring replacements] will mean at least a $70,000 savings to taxpayers," said Washburn.
Washburn said the decision to privatize the operation in July came in part from declining use. "Utilization has been dropping off," he said. "In 2009, we lost $144,000, and in 2010 it was $128,000. So we were down to 68 percent of what we were in 2009."
Washburn also cited the poor economy as well as competitive pricing from carting companies that pick up garbage and recyclables at the curb. Many people are too busy to make the drive out Stone Church Rd., and with rising gas prices, they are often unwilling to make the drive, he said.
Washburn pointed out that with the new system you don't have to buy special bags but can use regular garbage bags, and that the price structure is only slightly different now. The amount charged depends on the size of the bag. For example, he said, "a 55-gallon garbage bag would be $6."
Recycling is free, he added. "You only pay to bring in something large, like, say, a couch," he said. And there is no more yearly fee for users; it used to be $15 annually for town residents.
At the Aug. 27 Town Board meeting, board members agreed to install an answering machine in the transfer station office and to update the town website to provide residents with up-to-date open hours.
Facebook Comments