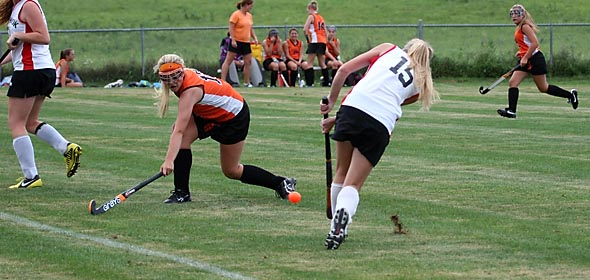 Red Hook field hockey is ready to rebuild this year.
The 2011 postseason was a letdown for Red: after claiming the best record in their division and the first seed in the MHAL tournament, the Lady Raiders lost to rival and eventual tournament winner Rhinebeck in penalty strokes.
"Last year, our team fell short of the goals we set for ourselves," says Red Hook's head coach Diane Zduniak.
Zduniak acknowledges that 2012 will be a "rebuilding" year for her squad, following 2011's postseason disappointment and the departure of seven graduated players. "This season we plan on taking it one game at a time and taking it step by step. We are not looking past one game on our schedule," she adds.
Red's returning seniors include goalie Chelsy Silveira, defenders Katie Quinn and Clare Troy, forwards Nikki Lewis and Olivia Bemis, and middie Ilysa Timperio. "Our team this year has potential," says Zduniak. "It is early, and we will see how we progress, but the potential is there. We have many talented juniors, and sophomores as well."
Aside from Rhinebeck, the Lady Raiders will have to contend with the annual threats of Rondout, Pine Plains, and Kingston, as well as newly minted division foe Dover.
Don't expect Red Hook to kick back for this rebuilding season, though. "Red Hook field hockey has a tradition, and we plan on keeping that tradition," Zduniak told the Observer.
Facebook Comments