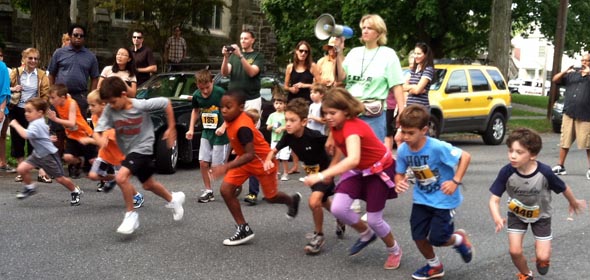 The Mad Dash Race in the village of Rhinebeck — a Labor Day morning event featuring a 5K walk/run, a 10K run, and "mini-dashes" for kids — drew hundreds of runners and walkers of all ages, shapes and sizes. It also attracted sponsorship from about 70 businesses and individuals, who donated monies that will go to about 19 local programs. The Church of the Messiah in the village runs the annual event, which began 27 years ago and has been held almost every year since.
"The real import of this entire event," said Douglas Hamilton, a parishioner and the official race starter, "is that it's a fundraising event sponsored by our church and directed at local charities. And it's a central part of how our outreach programs in the church raise money in a very public way."
Both Hamilton and Reverend Richard McKeon, Jr., the church's rector, have been involved in the event for the last couple of years.
"It's a great community event," said McKeon. "Registrations are up and it's more popular than ever."
"We really appreciate the community sponsorship, which has been tremendous," he added, "and, of course, the race participants themselves."
Runners and walkers from ages 2 through 78 participated in this year's races, which were on village streets and over gently hilly, paved and shaded terrain. The morning was temperate, without precipitation. There were staggered start times for the races, with the 5K beginning at 8:30am.
According to Mike Cassano, who co-directed Mad Dash with his wife, Heather, tallies are still coming in on the number of participants. However, he believes it was more than 670, including upwards of 570 runners and walkers in the 5K and 10K, and about 100 children in the Mini-Dashes.
The approximately 70 sponsors included Rhinebeck Animal Hospital, Williams Lumber, A.L. Stickle's, Bread Alone, Foster's Coach House Tavern, Holy Cow Ice Cream and Northern Dutchess Pharmacy. Some of the charitable organizations benefiting from this year's race include the church's own food pantry, the Storybook Project of the Dutchess County Jail, the WIC program, the Community Coalition for Rhinebeck Youth, the Dutchess County SPCA, Hospice, and several more.
This year's races raised more than $15,000, Cassano said, although the final number is still being tallied. All proceeds are going to the outreach. "No money stays at the church," said parishioner Laurie Craft. "It all goes out."
The Mad Dash Race began in 1988 and Hamilton spoke of people who have been involved with the event for 18 of those years, like Craft and her husband, Dave. "That just speaks to the level of depth of local commitment, of local people," he said. "For 18 years, this has been a staple for them; this is their Labor Day."
"While the course has been the same over the years," Craft added, "the number of runners has varied… One year I believe there were seven or eight hundred…"
"A lot of people come from out of state," she said, "because it's a race that people really enjoy, and it's family-friendly."
She also noted that among other modern modifications, the racers' times have been monitored for the past four years' events by a computer chip they wear rather than a tear-off portion of their bib, as previously. She has seen an increase in sponsorship as well, with donors giving back to the community while having more ways of getting their names out there, not just on T-shirts, but also on different kinds of signage, and more, she said.
The races ended with a ceremony and presentation of ribbons and trophies to the winners, as well as announcements of raffle winners. Racing divisions for the 5K and 10K were for males and females up to 14 yrs, 15-19, 20-29, 30-39, 40-49, 50-59, 60-69 and 70+.
The male winner in the 5K was Dante Penepent of Rhinecliff; the female winner, Marisa Strange of Pleasant Valley. In the walkers' category for the 5K, the winner was Pete Wells of Ulster Park. The 10K male winner was Arthur Green of Lagrangeville; female winner was Melissa Guckian of Poughkeepsie. In the children's Mini-Dash categories, winners were: Kyle Lewis (2-3 year olds), Aidan Ginor (6-7 year olds), Emmanuel "Moochie" Laracuente (8-9 year olds) and Gideon Rothschild (10+).
Click here for full race results.
Facebook Comments