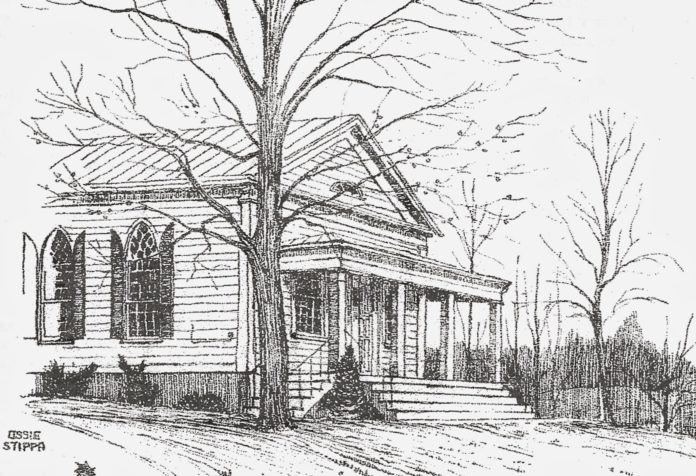 These days, people mostly speed by Rowe United Methodist Church without taking notice of Milan's small but elegant white clapboard Greek revival masterpiece on Route 199. Nor do the gravestones perched neatly on the hill behind the old wrought iron fence across the road in the Rowe Family Cemetery elicit much interest.
After all, as Bobbie Thompson writes in her marvelous collection of reminiscences "Out to Milan," more is unknown than known about the Rowes, to the puzzlement of historians and genealogists alike.
But thanks to extensive renovations done in the late 1960s, it is fairly certain that John I. Rowe built, or had a hand in building, the church, probably in the late 1830s, because his initials were found carved into one of the church's massive beams. And it is a fact that he set aside the land on which several generations of his family began to lie as early as 1765.
Another certainty: John I. Rowe himself lived to a great age – 86. He died in 1863, five months before Lincoln gave his Gettysburg Address. By then, the Rowes had been sinking their roots into the New World, especially Milan, for more than 150 years.
It began with John I. Rowe's great-great grandfather, Nicholas Rau (the original German spelling). He probably came to "East Camp" (today's Germantown) in 1710, one of the 1,200 refugees from the Rhineland brought to produce pitch on Livingston Manor for the Royal Navy. Fifty years later, his son, Johannes, had done well enough to purchase 911 acres of the manor, including the land on which the church and cemetery rest to this day.
In the fullness of time, the Rowes continued to prosper in and around Milan, Pine Plains, Millerton, even Rhinebeck, becoming community mainstays as farmers and patriots. Johannes, head of the third generation, Americanized the family name to "Rowe." His son John (father of church-builder John I.) won distinction during the Revolution as a captain in the Dutchess County Militia.
Then for some inexplicable reason, John I. Rowe (his grandfather's namesake and head of the sixth generation) picked up and moved to Rochester. Maybe the pull of the frontier was irresistible. But for all intents and purposes, the Rowes became lost to Milan in the great American wilderness.
Until now, that is.
Twelve generations after founder Nicholas Rau set foot in Germantown, his direct descendant, Colorado-born Christopher Brazee — who grew up in Maine and lives in Brooklyn — is marrying a Red Hook girl: my daughter, Olivia.
Full circle in 300 years…
Facebook Comments