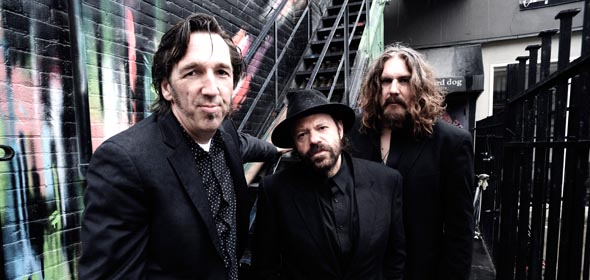 Blackie and the Rodeo Kings are blasting into Red Hook for a one-night-only show that is sure to knock everyone's socks off.
Canada's award-winning roots rock super-group is making a rare stop in our area. "I've spent a lot of time here," said Colin Linden, the band's producer and guitarist, "but the band hasn't been here very much. I've done a lot of recording here, a lot of work with The Band in the Woodstock area. It always felt like a home to me. I grew up in White Plains."
Just getting the group (which includes Linden, Stephen Fearing and Tom Wilson) together is a feat of artistic engineering. They hail from as far as Nashville and Nova Scotia. Getting together to play music is "like it's a special occasion," said Linden. "It's the ongoing story of what we do."
Asked how far along in the tour the band is, he answered with a chuckle. "We're 17 years into the tour! We're doing a few shows up here – hit-and- run shows. Four shows up in your neck of the woods. Then in November, we're going across Canada, headlining 2,500-seat theaters."
He added, "But it's great for us to be playing in Red Hook; I've been living in America for 15 years now, and we rarely play here. We have to start from scratch (in America) but we're game for it."
It was 1996 when solo artists Linden, Fearing and Wilson came together to record what was then supposed to be a one-off tribute album to the great Canadian songwriter Willie P. Bennett. This was to be a single occurrence – a great time to be had by all, but each had separate ambitions to pursue. Little did they know it would become a reoccurring passion.
What kept drawing them back? "Our friendship," said Linden. "That sense of liberation … real freedom and joy that we get when we play music. We were discovering how much we liked one another. We didn't have the pressure when you have your own career: it's important to have a hit. Here we had no agenda. We enjoyed it so much because of that. We kept wanting to have that feeling."
The group kept coming up with interesting ideas, Linden said. "Tom Wilson says it's that the band never says no. It's a great way to be in a band. It makes you feel free and takes the pressure off, which is something we really cherish."
The band's sound grew organically out of their mutual appreciation for Willie P. Bennet. "That was certainly the first compass point for us," said Linden. "We all love Willie P.'s music and he was such a good friend to us. Irreverence and lust for life is evidentiary in his music."
And today? "In terms of sound and identity, it's unruly and chaotic. It's loud and it's roots. Even when we play quiet, it's loud! And we all have problems with authority that comes out in the music," he added.
Their latest album, "Kings & Queens," was released in 2011. "From the time we got the idea was five years," said Linden. "It took us a couple of years to get ready to do it; we were all in the midst of other products. In 2008, I was playing guitar for Emmy Lou Harris. What we wanted more than anything was to collaborate with famous artists. We wanted to make an environment that when they walked in the studio, the songs were in the right ranges and they were the fourth member of the band."
Blackie and the Rodeo Kings aimed high, starting with names like Roseanne Cash. "She was one of the first women who said yes to us, so we set the bar high on who would be on the record. That gave us the confidence to create the project."
You'll hear a few tracks from "Kings & Queens" when they roll into town. "We'll be doing a show unlike any we've done before," said Linden. "A bunch from 'Kings & Queens' that work without an available queen. Every show we do something we haven't done in a while … We make it spontaneous. It's always great fun to do that."
Presented by Studio Red Hook, Blackie and the Rodeo Kings will play at 8pm on Oct. 13 at the Enigma Music Hall (1179 Route 199, Milan; 845-758-2264). Doors open at 7pm. Tickets are $28; go to www.studioredhook.com for purchase details.
Facebook Comments