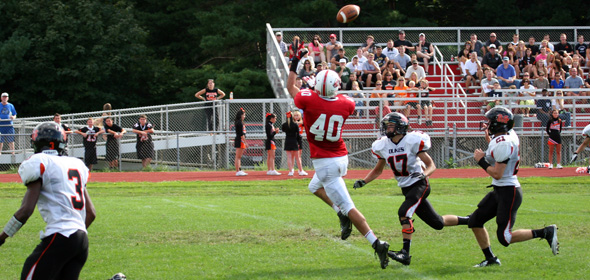 With the Red Hook High School stands packed with fans of both teams on a beautiful Sunday afternoon, Red Hook lost to Marlboro Central for the sixth consecutive time, this time by the lopsided score of 41-13.
Red Hook has not beaten Marlboro since 2007 and lost to them twice last year. Last October, the Dukes defeated the Raiders by a score of 45-28 in a Section 9 Class B playoff game.
In Sunday's game, Marlboro jumped out to a lead taking advantage of two first-half turnovers to score twice. With the Dukes' strong running game and superior line play on both sides of the ball, Red Hook was unable to make any headway in the first half and faced a 17-0 deficit at halftime.
Looking at the second half, Red Hook Coach Bill Stutz felt that the turnovers were what had put them in such a big hole.
"We had two fumbles that cost us two scores," Stutz told The Observer before the second half began. "[If] we don't fumble and get our offense off the ground, it should be a totally different half."
The third quarter started out promising with Marlboro turning over the ball on an interception. Quarterback Lucas Brochetti connected with receiver Brandon Coleman who ran it in for a touchdown. The extra point was blocked but a comeback appeared possible.
Soon after, Marlboro drove down the field and, stopped by the Raiders defense, lined up for a long 46-yard field goal. That's the kind you expect to see only on Sunday football on TV.
But Marlboro kicker Adam Laubach split the uprights with room to spare — and make the score 20-6. Laubach continued to haunt the Raiders throughout the game, driving multiple kickoffs into the end zone for touchbacks that forced Red Hook to start many drives at their own 20.
In the end, the Dukes were too much for Red Hook and scored three more touchdowns to reach 41-6. The Raiders managed one more touchdown with 33 seconds left in the game, but it was too little too late.
After the game, which had been moved to Sunday from Saturday because of the threat of severe weather, Stutz spoke about the loss.
"That's a very, very good Marlboro team and I think they dominated us on the line," he said. "I will have to watch the film but I think the breakdown [was] they just beat our line. Physically better."
The Red Hook Raiders' next game is away at New Paltz on Fri., Sept, 14 at 6:30pm.
Facebook Comments