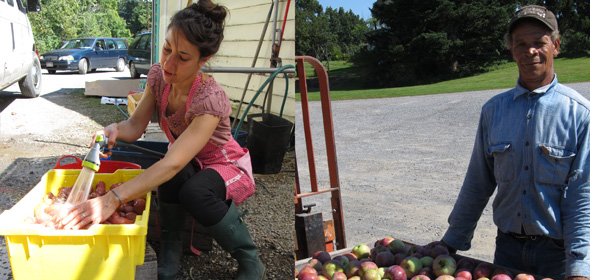 For 25 years, Talea and Doug Fincke have been managing Montgomery Place Orchards and Farm, where they grow 60 varieties of apples, along with berries, grapes, an array of other stone fruits, and vegetables, cultivating altogether 40 acres of produce sold locally to the Red Hook community.
First hired as employees, the Finckes soon transformed the farm into their own business; they replaced all of the orchards, growing about 30 to 40 trees of each variety, and then decided to sell 100 percent of their produce through the farmstand.
Today, Doug, Talea, and their son Adam grow about 80 percent of the produce sold at their stand, supplementing with other local producers—such as Hearty Roots and Fix Brothers. If you're a first-timer at their market, like me, you'll be impressed by the stunning displays and aesthetically pleasing signs—gestures that bring character and life to the produce. Because they sell locally and move through their produce so quickly, they can pick their apples exactly at the right point of ripeness.
"We literally run back and forth between the farm and the stand all day long… get it in, get it out," Doug says.
The farm is on the historic Montgomery lands, which Historic Hudson Valley purchased in 1985 to preserve one of the only fully intact river estates. Built in the early 19th century, the 380-acre estate includes house, gardens, woodlands, orchards, and a stunning natural landscape.
On my trip to the farm, Doug and Adam meet me in the parking lot; father and son duo keep a lively and loving banter, speaking passionately about their commitment to farming, the struggles they face in their work, and the joy of each day—they are full of anecdotal stories, strong-minded views concerning agricultural politics, and beautifully articulated statements concocting a picture of their days.
As serious as they get, they still speak with a smile, tossing a Frisbee to their eagerly waiting dog as they take turns sharing their story with me.
When I ask Doug what he loves most about his work, he declares, "I swear to God, I love every single bit of it… if it's under control." Adam jumps in, "There's no monotony in the job at all. I can spend the morning accounting, then pick apples, learn html script, and drink hard cider we pressed last year before I go to bed."
Doug uses a system of management called Integrated Pest Management (IPM), an approach that incorporates an array of practices to control pests. Doug comments on the importance of minimizing spraying and keeping his food healthy; when he is out in the field working, he says, "I like to pig out—I like to be able to eat stuff right off the vine. It's like a giant family garden; we never treat anything like a commodity." Instead of wiping out populations of predators, Doug's managed spraying aims to "throw off the cadence of development. It's a game of how much you can get away with not doing," he says.
In addition to running the production farm, each spring Adam and Talea create an outdoor classroom for 900 kindergarten and first-grade students who come to the farm for an educational day during which they learn the importance of the honey bee in pollination
Aside from this, Adam smiles and says his main role is "everything." He fixes everything, harvests, keeps the grounds looking attractive, prunes and maintains the website.
Another joy of farming, Adam adds, is "freedom… being outside without any people all day long." Adam and Doug agree about the ultimate freedom of their work—they never have to worry about finding either a restroom or a parking space.
Recalling the images of his childhood that first drew him to farming, Doug says, "I always liked the way apple trees looked in the wintertime." He remembers visiting an apple orchard, driving home through the darkness eating an apple. With each blossom slightly variant in smell and color, apple trees are, he says, "living art."
After we speak of the struggles—from the deer population to the kinds of natural destruction that Irene brought, Doug says of farmers, "we're really the ultimate optimists." Farmers keep working, year-by-year, not always knowing if the weather will help or hinder or if their management strategies will be successful. They keep growing, learning, hoping, believing.
The farmstand allows the Finckes to connect with their consumers, to teach people about their work, to give them an understanding of the joys and challenges of eating local. "Once they learn," Doug says, "they're complete converts."
Come bite into some of the freshest apples around at the Montgomery Place farmstand, located at the intersections of Route 9G and 199 in Red Hook. Open Tuesday-Sunday from 9am – 6pm. A list of what's in season can be found at www.mporchards.com.
Facebook Comments