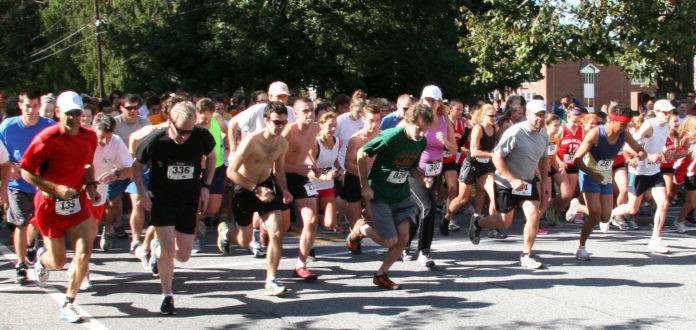 It's a clear, crisp Sunday morning at 8:45am. Registration for the 4th annual "Catch-A-Rae" 5K Run/Walk, 1-Mile Run, and Kids' Fun Run has been going on since 7:30, and almost everyone has arrived: chatting, taking pictures, donning the official T-shirts, anticipating the first race at 9am.
The atmosphere on Sept. 16 outside Red Hook's Linden Avenue Middle School was similar to a family reunion, not surprising because of the reason for the event.
Alexandra Rae Gravino was a 15-year-old freshman at Red Hook High School when she was killed in an auto collision March 1, 2008, on Route 9 in Rhinebeck. Alex's mom, Jodi Gravino, remembered, "She touched so many lives, and that she continues to do so is a testimony to her spirit."
"Catch-A-Rae" was inspired by Jodi's referring to Alex as her "Rae of sunshine" and in recognition of her always bright and positive demeanor.
In addition to the 5K Run, the expansion of the Memorial Garden at the high school (now known as The Healing Garden) was undertaken by Alex's friends and family after her death to help the students deal with their grief and to memorialize all Red Hook High School students lost through the years.
At the raffle table, memory bracelets were for sale, and a variety of prizes had been donated by local merchants. But the real eyecatcher was a pair of Converse sneakers laser-printed with a bright design created by Alex herself . Platinum, gold, and silver sponsors from all over the community –- in addition to Red Hook High School — numbered 52, and all proceeds will benefit "Action for Alex," including the Alexandra Rae Gravino Memorial Arts & Athletic Scholarship.
Two students ran the 5K dressed in "Ghillie" suits; Will Brammer traversed the 5K in his wheelchair (at 31:23) accompanied by members of the RHHS football team; infants in strollers were pushed along at various speeds, and even a few dogs got their exercise for the day.
Entertainment was provided by MacCana, a popular Celtic band known not only for their versatile music but for performing at fundraisers. Member Terry McCann's daughter attends Red Hook High, and he said, "We all grew up in Red Hook; we love to see all the kids come out for this. We think it's a great way to remember a great Red Hook girl."
The finish line for all the races was at the school track,and high school cross-country and track coach Greg Rafferty was in charge, with plenty of assistance. "Thank God for Coach [Pamela] White who organized all this and for all the volunteers who gave up their Sunday morning to make this possible," he said.
The races ended with the raffle drawings and the presentation of Olympic-style medals to the athletes. A total of 258 runners, ages 10 – 72, participated in the 5K run, and first-place overall was won by Alex Goodlad of Champagne, Ill., a Bard College freshman, at 17:51; Terri Bell won the women's first place, at 20:21. All race results will be posted on the website: www.catcharae.org.
Facebook Comments