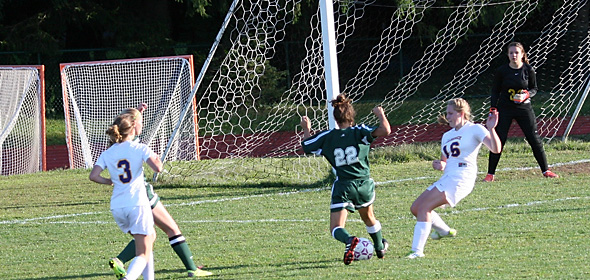 "I couldn't be prouder of the team I have this year," said Rhinebeck girls soccer coach Matt Grande after their 2-1 overtime win against Webutuck at home last Friday.
The thrilling win came just two days after the team bested visiting Coleman by a score of 2-0.
On Sept. 19, Rhinebeck faced off against Coleman after a long layoff — and in the first half, it showed.
"I didn't know [the Coleman game] was going to be a nail-biter," Grande said. "We had four days off because of the Jewish holiday and the weather, and we came out rusty." The two teams ended the first half in a scoreless tie but a majority of the time was spent on Coleman's side of the field.
After halftime, Rhinebeck seemed to play with more focus and energy.
"All I really said at halftime was 'You're controlling the game, you need to speed it up,'" added Grande. "Because Coleman does a very good job of defending and they bring everybody back and they'll leave one person up."
Even after shaking off the rust, Rhinebeck still couldn't break through the Coleman 8-man defense so the team decided to change tactics by bringing up their defenders to the offensive side.
The change paid off as junior defender Kaleigh Kupiec scored her first varsity goal unassisted at 30:51 of the second half. Nine minutes later, senior midfielder Meredith Mimoso scored with a corner kick when the Coleman goalie was unable to secure it and it bounced into the goal.
In Friday's game, Mimosa scored with an assist from sophomore forward Rachel Tigges in the 35th minute. Webutuck evened the score in the second half when Riliegh Campion slid a shot past the Rhinebeck goalkeeper off an assist from Brianna Baily.
"I could see the team was getting frustrated and nervous," said Grande. "But after full time [before overtime began] my assistant, Marc Burg, and I told the girls that whoever is more composed and keeps their head in the game would eventually win."
It took until the second overtime, but Rhinebeck won with a goal from junior midfielder Christine Hatter off an assist by freshman forward Natalie Hutchins.
"Natalie Blakey was, as always, great in the goal until an injury in the first overtime when she challenged a breakaway and collided with an opposing player," added Grande. "Sydney Spencer went into the goal to secure the win."
Rhinebeck's schedule continued this week at Millbrook on Monday and they are scheduled to face Marlboro away tomorrow.
Facebook Comments