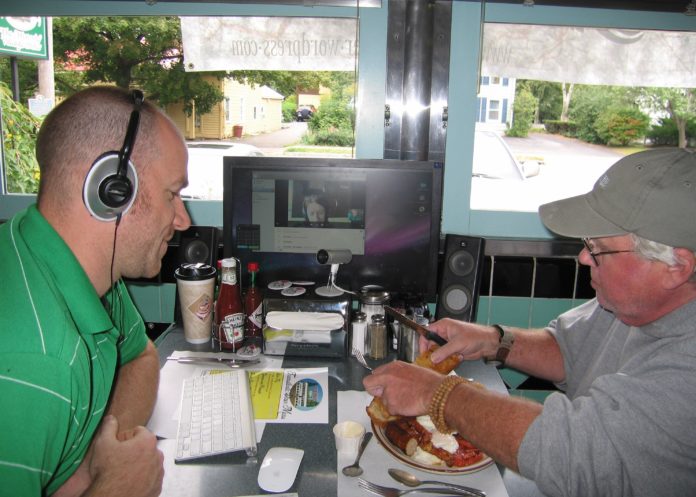 The Historic Village Diner in Red Hook turned into a transatlantic dining event for one special day, when a live video link-up allowed diners to meet and eat across the ocean.
The culinary surprise project paired Red Hook's home of the "Diner Dunkers" with Blinkers, a cafe in Belfast, Northern Ireland. At each venue, customers enjoyed foods that were somewhat different in name and preparation, yet deliciously familiar. Their dinner companions across the table were actually many miles away as they Skyped about their meals.
The event on Sept. 21 was conceived and coordinated by artists Matthew Slaats of Millerton and Johanna Leech of Belfast, who had met in Washington D.C. while working on another project. Johanna's evening was slightly more challenging, since the event, called "Transatlantic Diner," was just one of more than 100 events comprising Culture Night Belfast, a cultural celebration committed to transforming and energizing the streets of Belfast over the course of just one evening. Last year, more than 20,000 people took part in CNB11, so Blinkers had no problem finding enough willing participants to try a burger with fries, a milkshake, and some pecan pie.
Matthew, who describes himself as an artist interested in community development, explained why this diner was chosen over the many located in this area.
"We really wanted to connect local people in the Hudson Valley to local people in Belfast. We got great support from the Red Hook Chamber of Commerce and Red Hook Community Arts Network, whose artists are also working for the community here," he said.
Johanna, a visual artist and curator, added "Arts revitalizing a community can cause a big economic impact. We can re-think how/where we live and ask, 'Where does this food come from?' I am interested in how the arts can not only bring in tourism but more important work with the community."
Arleen and Sam Harkins, who have been running the Historic Village Diner for 30 years, were both working in the kitchen for the day to make sure the event ran smoothly. Arleen had no problem adding the Irish items to their menu.
"Food brings people together," Arleen explained. "I made Irish soda bread, jam sponge, and scones with clotted cream. I think food is the cure-all for everything. This is really a great cultural experience to see the way food is the same."
Anthony McGurk, the manager of Blinkers, also enjoyed having his establishment be the setting of the diner drama. "It's very exciting. It's very family-oriented and it's creating a really good atmosphere in Belfast," he said.
By noon, Red Hook time, the technical glitches were at a minimum. Don Gavin of Germantown came in and agreed to participate, especially when he found Ulster Fry (potato bread, sausage, eggs over easy, grilled tomatoes) on the menu. He was instructed to put on headphones and then was able to have a "face-to-face" conversation with Chloe Morrison, who was sitting down to her meal in Blinkers. Irene McLaughlin of Red Hook also enjoyed the Fry. "It was delicious, and I think it's a fabulous idea what they did today, lots of fun," she said.
Matthew Slaats seemed satisfied with how everything had turned out. "Sam and Arleen have been amazing, so excited about the project, so supportive," he said. "This place has a really great quality to it that you really don't find too often, and we wanted to share that with the people in Belfast."
Facebook Comments