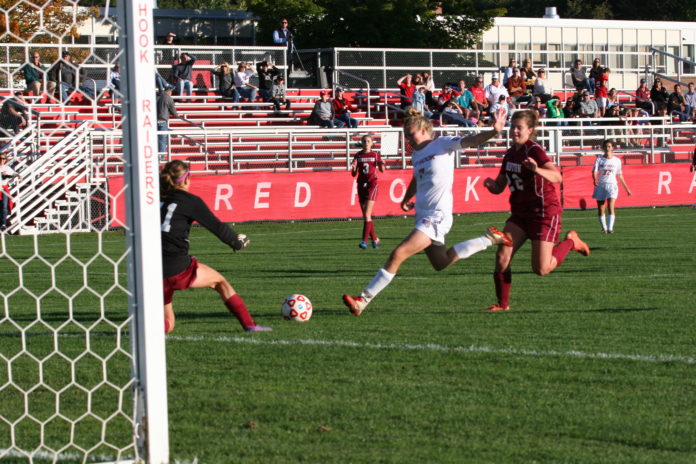 With a win over an unbeaten, state-ranked Spackenkill team last Friday, Red Hook girls soccer extended their undefeated season and lead the division with eight wins and one tie.
The 3-2 win over the Spartans was meant as a challenge to the Raiders. Their coach, Justin Pavlich, had scheduled the non-league opponent with just that in mind.
"We knew Spackenkill would be a very good team based on what they were returning off last year's team, which made it into state regional play," said Pavlich. "They wanted a good test at their halfway point of the season and I wanted a quality opponent to play in a non-league team, so we agreed to play."
The win is even more impressive given the loss of senior Grace Weisbecker during a 2-1 victory over Kingston earlier that week. Weisbecker, a state pole-vaulting champion, was leading the team with five goals and three assists when she injured her ankle, ending her soccer season.
"I feel bad because she's got a great work ethic and she's been very valuable to us over the past few years," said Pavlich. According to Pavlich, Weisbecker is not expected to miss the track and field season next spring.
With just five games left in the regular season, Red Hook is poised to make some noise in the playoffs this year.
"Going into this year we had a lot of question marks because we lost so many players to graduation last year," said Pavlich. Seven starters, including all-state forward Elena Howard, are gone, along with four other members of last year's roster. Pavlich said that the returning members and first-year varsity players have all stepped up to fill the gaps.
Pavlich has been involved with Red Hook girls soccer since its inception, volunteering as an assistant coach for the first junior varsity team while playing for Bard spending two years as an assistant coach, two years as a JV coach and 12 years as varsity head coach. Under Pavlich, Red Hook has notched six league championships and one sectional championship.
Asked to compare this team to prior years, Pavlich said, "In past years I've had one player that's always been the standout and carried the team in terms of goal scoring and things like that. But this year we've got a very balanced attack, and everybody is contributing on offense. [And] the lone returning starting fullback, Sara Livecchi, has done an outstanding job of keeping the back four organized. They are learning quickly and improving every game."
Team stats bear that out: Six players have double-digit points, including Weisbecker. Top scorers include senior midfielder Caitlin Swanson (7 goals, 1 assist), sophomore midfielder Shannon Berg (1 goal, 12 assists), senior midfielder Weisbecker (5 goals, 3 assists), junior forward/midfielder Julianne Wilkinson (6 goals), 8th grade forward Isabelle LaBarbera (5 goals, 1 assist) and senior midfielder Kyla Gabriel (3 goals, 4 assists). Ashley Pica is the starting goalkeeper with 7 victories, the eighth going to backup keeper Shayne Esposito.
Last year's team finished at 12-5-1 and ranked #20 in the state. Going into the Spackenkill game Red Hook was ranked #17 in Class A, but that was expected to improve when the new rankings were released this past Monday.
And the future looks bright since Pavlich is fielding a roster with three eighth graders, as many as he has had on his varsity teams in the last 11 years combined. All three on his earlier teams eventually became all-state and two of them went on to play in Division I soccer.
"This year has a lot of potential, but so do the ones that follow in the next few years," said Pavlich.
Red Hook was scheduled to play three games in four days this week, including two divisional games: yesterday at home against Saugerties, today away at Rondout Valley and Friday at home against Highland. All games start at 4:15pm with home games at Red Hook High School.
Facebook Comments