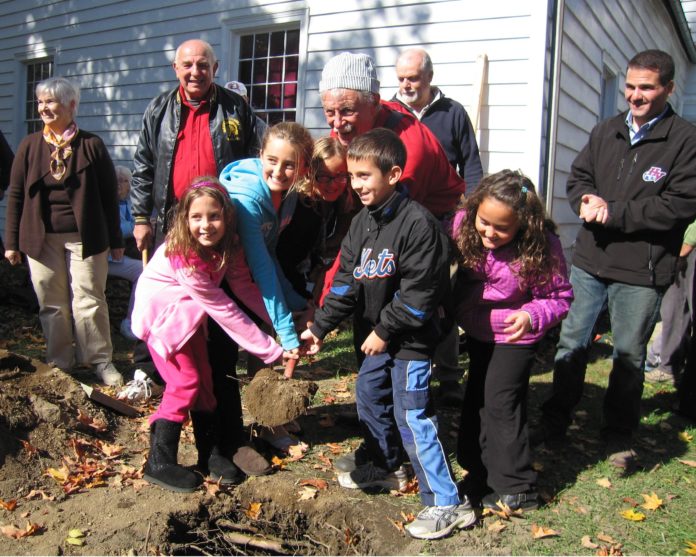 Much as they have for more than 200 years, the people of Red Hook came together on a recent crisp autumn Saturday under the big maple tree at the Elmendorph Inn to mark another milestone in our town's continuing story: the closing of the Bicentennial Celebration.
Politicians? Like bees to honey. Bicentennial volunteers? Shovel-ready, willing and able, as usual. Plus the old and the young, the neighbor, the friend and the passerby, all came to bury the 2012 Red Hook Community Time Capsule, not to be opened until 2112.
Sealed inside two plastic buckets ("guaranteed to last at least 100 years") were copies of all the newspaper and magazine articles about the Bicentennial, a Red Hook phone book, an American flag donated by the Harris Smith American Legion post, commemorative coins, digital videos and photographs, Claire O'Neill Carr's "A Brief History of Red Hook" and other books about the town, even a bobble-head doll of County Executive Marc Molinaro.
Best of all, though, was the Community Heritage Book, filled with hundreds of testimonials from the Red Hookers of today so those of the future will know why our town is so special.
None was more eloquent than Art Sipperley, Sr., who wrote:
"When my father moved us to Red Hook in late 1941, he called it 'God's Country.' At the age of 11, I'm not sure I knew what that meant, but not counting my five years in the U.S. Navy, I've been here ever since. There must be something to that because we've raised seven kids in Red Hook, and they all still live or work here. That's made me very happy.

"I have to say that I loved going to school here; I had the opportunity in high school to do what I loved best: play football, basketball, baseball and track for Red Hook for all my four years. Also, the teachers seemed more interested in the kids than they did in the city, and the friends I made then often became life-long friends.

"Red Hook is a place where you know people from an early age, and it is meaningful to grow up in a place like that. Red Hook is situated in one of the most beautiful parts of the world, and I think that has something to do with people loving it so much. Honestly, this is the place where I've been the happiest, and it's the place where I'll die. I've always felt fortunate to call Red Hook my home town, and I cherish the people and the opportunity to live in such a wonderful place."
Facebook Comments