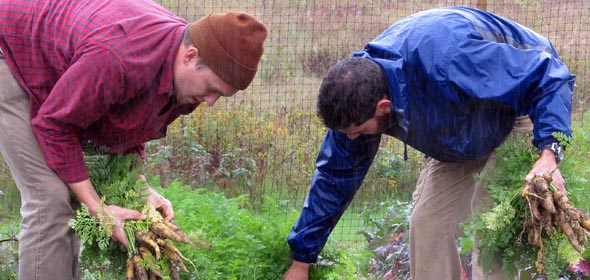 Through the work of farm manager John-Paul Sliva and a handful of dedicated students, Bard College Farm has built a one-and-a-quarter acre plot that was a meadow last spring into a thriving landscape of permanent beds, drip irrigation, hops, cranberries, and annual vegetables.
We stand in the backyard of one of the dining halls—an appropriate spot for a garden that supplies produce to feed the student body — as John-Paul points out how "the porch which students can eat on directly faces the farm." It is here that students and faculty can experience the reality of farm-to-table.
John-Paul sees the college farm providing a space for students to "learn to embrace local, organic-based food." And he adds, "Not a lot of students are going to be farmers, but they're going to be consumers for the rest of their lives."
The farm also brings physical labor into the college environment. As students till raised beds of cranberries, spread loads of compost, weed, hoe and harvest hundreds of pounds of squash, they combine their thinking with hands-on engagement to become food activists.
By hosting various student groups—from the on-campus pre-school to a Hudson basketball camp—for carrot harvests and weeding contests, Bard students then have the opportunity to establish their farm as a hub of community outreach and education.
The farm intends to follow a no-till system, to be what John-Paul sees as a "prime example of urban agriculture—practicing high output farming for a limited space… to create a model of urban sustainable farming." He notes how many students come from, and return to, urban environments; here, they have the opportunity to learn how to grow food in whatever landscape they inhabit.
Ben Gordon, one of eight work-study students, walks through the soggy field to harvest for the day's dining hall order; he sorts tomatillos and harvests carrots to add to the 155 pounds of winter squash that we unload from storage.
With John-Paul and one other student, Ben spent the summer working on the farm, which he calls "my crash-course in everything that grows." A theater major without a farming background, Ben admits, "I didn't think it would be something that would change my perspective on food and what I want to do with my life." Although Ben isn't ready to commit to a career in farming, he says, "I'm going to make sure I have my own garden to feed myself from."
Over the summer, aside from on-campus farming, students explored farms in the community with visits to Hearty Roots, Monkshead, Old Field Farm, and Sparrowbush, to be what John-Paul calls a "traveling force of workers." The visits gave students the experience of the work and culture of small farms throughout the area.
The Bard farm walks a delicate balance between seeking financial sustainability, and trying to work with the budget of dining services, which don't necessarily incorporate the purchase of high-end organic food. But, John-Paul commits to working with food services so that college-grown produce can find its way into the meals served on-campus. He makes weekly phone calls to discuss the harvest and says, "I love the fact that I'm directly talking to the chef." This year, approximately 6,000 pounds of food came out of the garden, the majority of which went to the dining halls.
The farm houses the Hudson Valley's largest cranberry bog and 60 hop vines that line the perimeter of the garden, both crops that John-Paul intends to sell to pull-in outside income. He hopes that will create a "financially self-sustaining system," rather than relying on grant money and donations to make the farm economically viable.
To give students the opportunity to direct market, while also earning supplemental income for the farm, Bard brings its produce to markets in Red Hook and Tivoli and also sells to local restaurants.
Facebook Comments