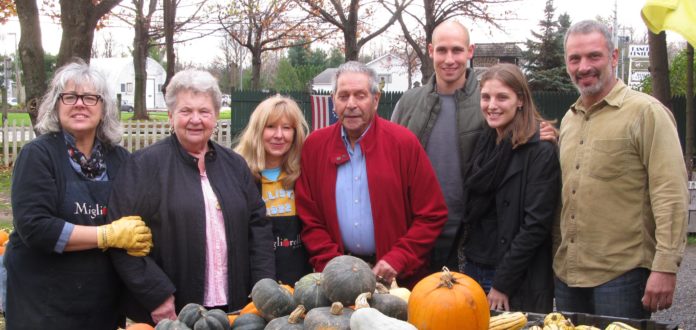 As the story goes, the roots of Migliorelli Farm can be traced to the 1930s when Angelo and Concetti Migliorelli broke ground on land in the Bronx. They started selling from a push cart; by the end of the first day carting produce, they went home with $8 in their pocket.
In the 1960's, their son, Rocco, and his wife Benita, brought the operation north to Linden Farm in Red Hook, beginning with about 10-20 acres, selling wholesale and pick-your-own crops. By the late 1970's, as Rocco and Benita's son, Ken, graduated after studying agriculture at Cobleskill, the business was not going well. "My parents were actually going to walk off the farm and leave it to the bank," Ken says.
In 1982, Ken initiated the farm's turn-around, inspired to sell through direct marketing, a friend suggested he sell at New York City Greenmarkets. He began with three markets per week. Selling through Greenmarkets is no small commitment—he began his day at 3am to drive produce into the city, and worked a 19-20 hour day three times each week. But this afforded him the luxury of getting off the farm, interacting with customers, and, most notably, turning a profit.
The farm kept expanding. To 40 acres; then 60. In 2002, the Migliorellis expanded their enterprise with the purchase of a fruit farm in Tivoli. Today, Ken manages around 1,000 acres: 400 in vegetables, 100 in mixed fruit, and, the latest venture three years ago, growing wheat.
When Ken and his father farmed together, they debated the importance of resting the soil in between years of cash cropping. Ken valued using cover crops to build soil fertility and humus. In managing such a large acreage of land, Ken found that cover cropping adds fertility to the soil without relying on compost. He then supplements with granular and foliar feeding, and adds fertilizers into trickle irrigation—an efficient way to feed plants. To accurately monitor the health of his plants, he uses a system of leaf analysis to assess soil health, to, as he says, "fine tune."
Although farmers often struggle to inspire the next generation to join the business, all four of Ken's children have worked with the farm from time-to-time. Two of his daughters have become integral to the operation—Carly, who manages the farm stands and office, and Chelsea, who currently attends Ag School at Cobleskill. But, Ken says, "this is an occupation you can't force anybody into." He says he always told his children, "Go get an education, follow your heart, and do what you love… but maybe my passion for doing this spilled over: I eat, drink, and sleep it."
The farm has evolved into a true family business. Benita remains active in the business even today; after a career in food science, Ken's sister, Maryann Rosolen, began working full-time with the farm—coordinating drivers and logistics.
Ken and family manage more than 50 employees, sell at 35 markets locally and in New York City, run three farm stands, and sell to multiple wholesale accounts—including 70-80 restaurants in and out of New York City.
All of this adds up to a 90-120-hour work week for Ken from June through Thanksgiving. He notes how some people couldn't imagine working this many hours, but says how quickly his days pass. "It's a matter of perspective," he adds, noting that instead of watching the clock waiting for the day to go by, he looks at the clock and thinks "Wow, the day is over so fast!"
Although he still goes to markets for his own enjoyment—to talk to customers and spend time in the community—his main focus is on production. "I have to make sure we have arugula on the table every day throughout the season," he says. To do this arugula has to be planted every four days; lettuce and corn get planted every 10 days.
Managing a farm operation, even one as successful as Migliorelli's, still requires farmers to walk a fine line between profit and loss. "The other thing people should understand—everything is not so hunky-dory either," Ken says. "Besides the sexy part about farming, the expenses are going crazy." Ken mentions such financial demands as fuel prices, insurance prices, and confronting new regulations that put a financial strain on small farms and adds, "We're getting squeezed."
Despite these pressures, Ken says, "I may be rich because I love what I'm doing."
To learn more about Migliorelli Farm, visit http://www.migliorelli.com/. Locally, Migliorelli Farm Stands are open daily 9-6, or find them at the Rhinebeck Farmers Market on Sunday mornings.
Facebook Comments