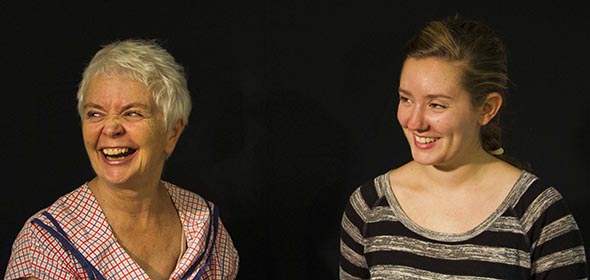 Get ready for a dose of intensity when the Rhinebeck Theatre Society's presentation of Marsha Norman's powerful drama "Night, Mother" opens this weekend at the Center for Performing Arts at Rhinebeck.
With a cast of only two, Norman's 1983 play won the Pulitzer Prize and four Tony nominations. The New York Times' Frank Rich described it as "eavesdropping on two people, who, in the mother's words, don't know what they're here for and, until this moment, have tried not to think about it."
Director Cora Stempel describes herself as a novice, but she's helmed several different types of projects, including children's plays. Adding another level of reality, Stempel is directing her own daughter, Harmony, for the first time in the role of fictional Jessie Cates.
"She started acting in Rhinebeck as an elementary school student," said Stempel. Harmony is an acclaimed New York City-based actress who returns to the Center for Performing Arts at Rhinebeck after a six-year hiatus. She was last seen locally as Ophelia in "Hamlet." Her most recent venture is "Human Fruit Bowl," a one-woman show that has been produced in Prague, Amsterdam and Hong Kong as well as New York.
"I've been with Rhinebeck Theatre Society for 20 years," said Stempel. "I've been involved off and on ever since. I stage-managed the first (production) of 'Gypsy' at the Center. In these last four or five years, I've enjoyed directing: the internal struggle, how to facilitate the process for actors."
Stempel calls her style organic: "It's really about having (relationships) evolve and talking a lot about who these people are and how we express that on stage."
To that end, she's directing her daughter in a complex mother-daughter dynamic with actress Lorna de Zengotita, seen recently in the County Players' riveting production of "12 Angry Men." She has appeared many times throughout the Hudson Valley, in numerous Cocoon Theatre and Rhinebeck Theatre Society productions.
Facebook Comments