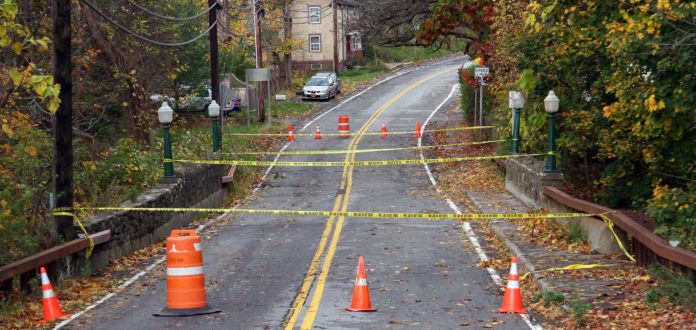 Local residents hoped for the best and watched television and videos online as another once-in-a-lifetime weather event, "Superstorm Sandy," came ashore in New Jersey last week. In the end, a combination of factors and luck helped the three towns in northwest Dutchess County avoid significant damage.
Except for outages in Rhinecliff and Milan and among a few scattered homes, power remained on for most local customers throughout the storm, according to Central Hudson's online storm center. Schools were closed on Monday and then had a two-hour delayed opening on Tuesday.
In Rhinebeck, leaders and first responders met on the Saturday evening before the storm at Rhinebeck Village Hall to discuss preparations, and Rhinebeck's Highway Superintendent Kathy Kinsella spent the weekend monitoring the forecast.
On Monday, as the storm hit the New Jersey-New York coastline, the highway department had four trucks loaded with cones, barricades, chainsaws and flares with plows ready to clear road debris. At 7am, a crew removed the floating dock from Rhinecliff Landing and stored it on the ramp in expectation of flooding. After noon, Rhinecliff Landing was flooded with water up over the wall onto the landing. Police copied down the license plates of cars parked in the Amtrak lot in case of flooding — during Hurricane Irene last year, the water was halfway up the car doors.
The remainder of the day in Rhinebeck was uneventful and there was little damage overnight, except for Beacham Rd which had a large tree and pole down in the wires.
For town budgets already stretched thin, a major storm impact would have been bad news.
"Compared to other storm events we have experienced in our area, Hurricane Sandy did not cause significant damage," said Kinsella. "For example, this storm cost about $5,000 in response versus Irene, last year, which cost about $120,000."
"In Rhinebeck, we were able to keep all roads open by quick response to any trees or limbs that were down," she added. "We had rolling patrols and were on the scene quickly. We were prepared and ready for the storm and kept in contact with other local agencies so that we could coordinate, if necessary."
In Red Hook, the storm's impact was also minimal.
"The Town of Red Hook was fortunate in that we suffered very little damage from Hurricane Sandy," said Red Hook Highway Superintendent Theresa Burke. "Four trucks patrolled the town roads and made sure catch basins and drain pipes were clear."
After-hours on Monday, Red Hook Highway had two calls — one for a tree down blocking Kidd Lane and another for a tree that fell on an unoccupied car in Red Hook Estates. At 5am on Tuesday, the highway staff was called in to check roads for downed branches and other problems.
"We started at 5 AM in order to ensure that commuters and school buses had safe passage," said Burke.
Facebook Comments