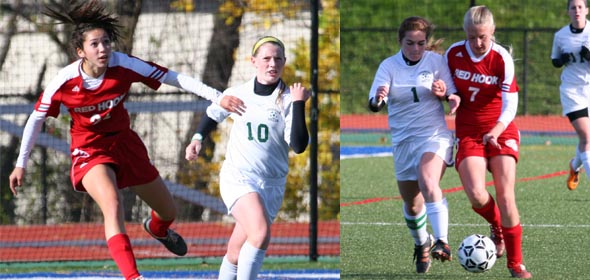 A remarkable season for Red Hook girls soccer ended on Sunday as the team fell to defending champ Cornwall 2-0 in the Section 9 Class A championship game in Middletown.
Red Hook spent much of the game playing defense in their half of the field because Cornwall controlled the ball and stayed on the attack but were limited in their shots on goal by a strong Raider defense. Cornwall and Red Hook keepers both faced 10 shots in the game.
"Red Hook came out, played strong. I thought we really possessed the ball well against them. Controlled the ball," Cornwall coach Rick Miller said. "It took us a little while, but we got the first [goal] — it made us feel good. The second one, it takes the pressure off."
Cornwall's first goal came with under five minutes left to play in the first half, scored by Christine Staudle for her 30th goal of the season. Fatigue may have also been a factor in the win, as Cornwall was able to rotate players in and out of the game while Red Hook played all 80 minutes with the same team.
"The injuries [earlier this season] to Grace [Weisbecker] and to a few other players, we lost some depth off the bench," said Red Hook coach Jason Pavlich. "Players that would make an impact in this sort of game. [Cornwall] can just bring in fresh legs and we can't …"
"Cornwall is a very good team…. I can't complain," added Pavlich. "We had our chances and they buried theirs, we didn't finish ours, so that's the end of the story."
Red Hook finished its 2012 season at 14-2-3 with its only two losses coming in the MHAL and Section 9 championship games.
Facebook Comments