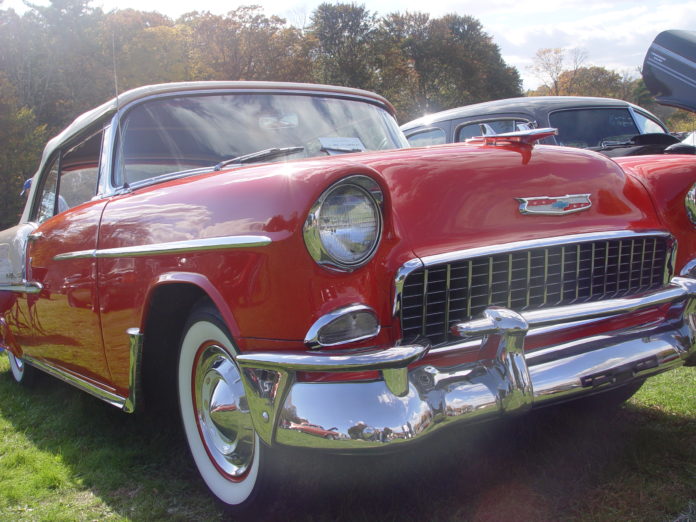 Red Hook's own Red Hook Car Club had an enviable presence at the 15th Antique Car Show at Mills Mansion in Staatsburg on Saturday, Oct. 20, showing up with a fleet of classic cars sitting side by side about the length of a football field.
The show is regarded as the last of the car show season by local autophiles, and this year it drew hundreds of cars and thousands of spectators to the mansion grounds with that idyllic view of the Hudson River and the Esopus Meadows Lighthouse.
"When I was growing up, my father had a '56 Olds, so I guess that's why I got it," said Red Hook Car Club John MacDonald of his '55 Oldsmobile 88, a 17-foot long showstopper with enough trunk space to fit an inflated kiddie pool comfortably.
The whip that attracted the most attention in Red Hook's section was Ross Fenn's '67 Chevelle Super Sport. "I took the engine out, completely rebuilt the engine, did some chroming," said Fenn. "The whole car's been done over. Completely tore out the interior, did that over, added a new exhaust, a new clutch, and a different rear end."
Jim Obrizok, a former Red Hook Car Club member, had a sweet parking spot, more or less in the first horizontal line of visible cars, and an equally sweet candied apple red 1966 Chevrolet Corvair . "I've had this car about five years. I had an older version of the Corvair with a different body style and I liked it a lot, but I decided I liked this body style better, so I looked for a car. I found this one down on Long Island and it needed a lot of work, so I spent about a year putting it together. I drive it around a lot," said Obrizok. "I've been into classic cars all my life, since I was about 16…. Could never afford to get a new car, so I always got the older ones. But I really like the Corvair and I plan on keeping it for a while."
The show had the high-concept rides like the Lotus Europa and the AMC Javelin, which were on display for neophytes who just wanted to take a look at the height of classic car design. Hoods popped wide open with car owners draped over their vehicles looking to talk shop with other gearheads. There was also Doc Brown's DeLorean Time Machine from "Back to the Future" on display for good measure, and even, for some reason a brand-new 2012 Fiat Abarth 500.
But it wasn't just the spread of classic cars that made the day special. It was the ambience –- the burn of fall air and hot dog smell on the breeze, the scores of kids, young and old, ogling real-life Matchbox cars.
As Marilyn Heuer, a Red Hook Car Club member who owns a peppermint red and white 1955 Bel-Air with her husband, Bob, said, "It's just a beautiful day on the Hudson."
Facebook Comments