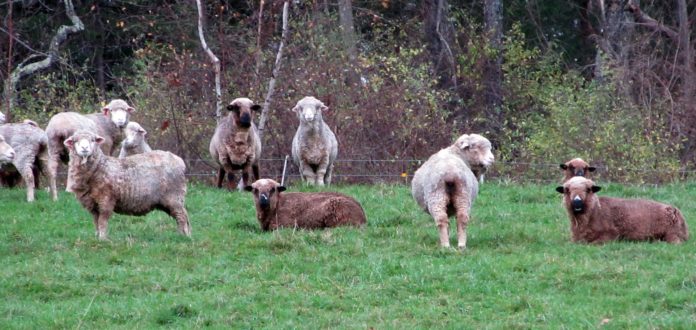 While working as a graphic designer in Upper Manhattan in the late 1970's, Margrit Lohrer gazed out her window one day to see a chicken running up Riverside Drive. Thinking the brave bird likely escaped its fate as a voodoo sacrifice—a common practice in that part of the city back then—Margrit brought the chicken to the weekend home she and her husband, Albrecht Pichler, had bought in Milan in 1977.
She named the chicken Cleopatra. And despite Cleopatra's disappointing failure to lay eggs (because it turned out to be a rooster), the bird delivered a different message to Margrit and Albrecht: "We decided—okay, maybe we should start a farm."
And that's why Margrit, author of "Morehouse Farm: Merino Knits," tantalizingly starts that story of their farming this way: "Morehouse Farm began with a voodoo chicken."
Neither she or her husband had an agricultural background, but they knew they wanted to raise animals. And they had a fondness for sheep. "We like the idea of turning grass into knitting wool," she writes in her book.
"In 1982," Margrit says, "knitting yarn was really rough stuff." In contrast, she wanted to produce a fine wool; "we wanted Morehouse Farm to become a mecca for knitters." The answer seemed clear: raise Merino sheep.
Margrit's farm education took place in the main branch of New York City's Public Library, which contained an unexpectedly rich selection of books on sheep.
In their quest to raise Merinos, Margrit and Albrecht met resistance from extension agents and livestock experts. "Everybody advised against it," she says, noting the experts called the animals greasy and claimed they wouldn't thrive in New York. But Margrit knew Merinos had a long history in New York — they were first brought to the area by Robert Livingston around 1800, and it was Livingston's Merino wool that helped fashion the waistcoat President James Madison wore for his inauguration.
So despite the warnings, Margrit and Albrecht purchased a prize-winning Merino flock at the Harrisburg Livestock Show in Pennsylvania—three ewes and one ram.
They set out on an ambitious five-year plan: to repopulate the whole eastern coast with Merino sheep. Initially, taking their growing flock to fairs and competitions, the sheep were not judged favorably. But Margrit continued to believe in the superior quality of their wool. Stepping back to assess their struggle, she says "we had an image problem." Her solution: "We went to buy the Cadillac of sheep trailers." The new image worked: the fairs changed their tune, begging Morehouse to bring their sheep to show.
Seeking a finer caliber wool, Margrit and Albrecht sent a broker to an Australian sheep auction to purchase two Merino stud rams in 1985. Historically, Australia tightly regulates the export of Merino sheep, keeping a near-monopoly on this precious commodity. The broker advised them to keep their bidding a secret— Americans had never bought fine wool before and they knew it would, as Margrit says, "create a big hoopla."
After importing genetics of such quality wool, combined with the skyrocketing price of wool, Margrit says, "we sold semen like there was no tomorrow. We couldn't breed them fast enough, they were so sought after."
For three to four years the demand for Merino stock was unquenchable. But as the market dropped, Morehouse expanded into new enterprises to adapt to a volatile market. First selling breeding stock, they transitioned to selling finished wool garments. Now, Morehouse thrives in selling yarn and knitting accoutrements exclusively on the Internet.
"In an agricultural environment, you constantly reinvent yourself; you can't just sit idle and say 'It worked 10-years ago and it'll work today.' You have to be at the forefront," says Margrit.
At the height of their on-farm production, Morehouse kept around 800 head of sheep; now, a grazing flock of 80 live on the farm, many of whom are rare black-hued Merinos. Margrit purchases the majority of Morehouse wool from farmers in Texas, and then adds precise percentages of her own black wool to the mixes to create specific blends of wool. She closely manages the purchasing, washing, spinning, and dying of her wool blends, which are then warehoused on the farm.
After a blustery walk through the pastures to visit the flocks, still grazing on autumn's green grasses, Margrit tells me, "I love sheep. I love the smell of sheep. I love to be around them."
To subscribe to their monthly newsletter for new knitting patterns designed and created by Margrit, and to purchase Morehouse yarns, visit www.morehousefarm.com.
Facebook Comments