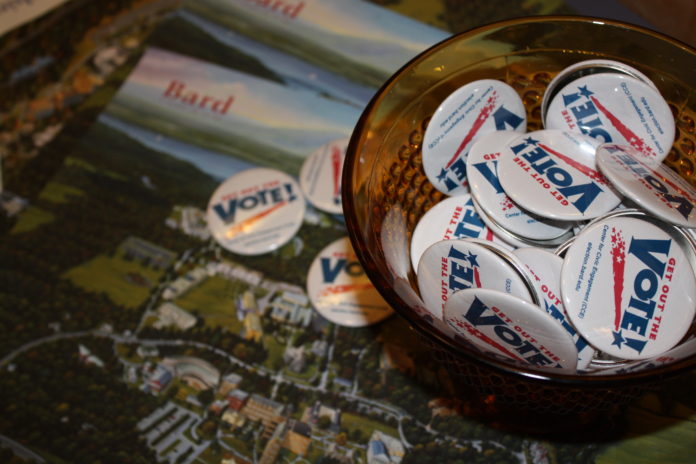 It was impossible to miss that Nov. 6, 2012 was Election Day at the Bard College campus. Shuttles ran between campus and local polls on the half hour. Students wore stickers that read, "I voted!" The community was abuzz about the election and how each voter had participated.
Remington Barrett, a freshman from Traverse City, Mich., voted in Barrytown. It was his first time voting. "I figured the race here would be more interesting than the race back in Michigan," he said. "It seems like the Hudson Valley is very Democrat-centric, so any two candidates really have to differentiate themselves in order to run against each other."
Freshman Annamaria Sičenica from Pittsburgh, Pa., chose to vote via absentee ballot. The election bore particular significance for Sičenica, whose entire family, originally from Croatia, became American citizens last year. She and her parents voted for the first time together.
For some students, though, the voting process presented challenges. "The Board of Elections conducted a fairly aggressive campaign to purge voters from the rolls," said Jonathan Becker, Vice President and Dean for International Affairs and Civic Engagement at Bard College.
About 100 Dutchess County college students' registration forms were marked as incomplete because they had not included dorm names and room numbers. Four students, including two from Bard, argued the case in federal court, where a judge permitted them to vote.
Sophomore Abby Margolis encountered another problem entirely: her name had been removed from the list of registered voters in Barrytown. On Election Day, she took her case to a judge in Poughkeepsie and also won the right to vote.
According to Becker, nearly 500 Bard students and faculty voted in Barrytown, "several hundred" students voted via absentee ballot, and even more voted at other local polling stations.
Voting, it seemed, raised nearly as many issues as the election itself. Barrett stressed the importance of researching candidates and becoming involved prior to Election Day. He said this awareness is more important than the act of voting itself, while Sičenica said she values the act of voting more than which party a ballot favors.
"Voting expresses your personal independence as a citizen," Sičenica said. "Because we have this privilege, we might as well use it."
Facebook Comments