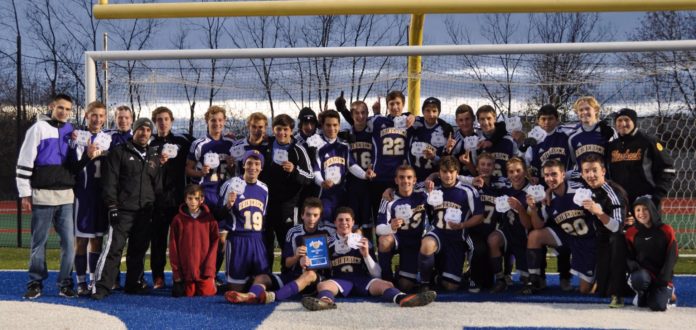 Even though the Rhinebeck boys soccer squad fell to Port Jefferson High School on Nov. 13, 2-1, in Purple's first-ever regional final, it was really nothing to lose sleep over. The Hawks submitted one of the best combined regular-and-post season performances that Red Hook and Rhinebeck have seen in years.
The squad went 17-3 in the regular season, and went on to win both the Mid Hudson Athletic League title, from defending MHAL champ Marlboro in a 1-0 match on Oct. 25, and the Section 9 Class C title, in a 4-1 rout of S.S. Seward on Nov. 4, courtesy of three Seth McLanahan goals.
"This year all 25 players made a commitment to the team and to each other. The focus and hard work for three months was absolutely outstanding," Coach Justin Wisenthal said. "I think the boys see that success is born from hard work and a strong commitment to each other. While we did not win our regional final match, the boys see what it takes to get there—and with the fun times that we had, they certainly want to get back."
Wisenthal said the season's triumphs came from many players, noting David Williams, whose "unselfish play in center midfield was key to (the team's) success"; Seth McLenahan, who scored 28 goals on the season; Nick Hoynes, the "on field general"; and the starting defense of Sam Tigges, Connor Bolton, Will Fox, Paul Henke and Will Burns, who, as a squad, only allowed 11 goals on the season.
"It was the combination of 25 players on the field that produced our great success," Wisenthal told the Observer. The Hawks will be losing 10 seniors to graduation going into 2013, including midfielders Patrick Cacciabudo, Aaron Hoffman and Williams; defensemen Kaelen Dietrich, Sean Phelan, and Fox, Henke and Tigges; midfielder Jake Euell, and goalie Burns. The team will retain scoring machine McLenahan.
Rhinebeck soccer will be playing with even more of a target on their collective back than usual.
Claiming two championships on top of a killer season is just a step above average for the Hawks—the team posted a commendable 12-5 record in 2010 and claimed the MHAL title in 2011.
But Wisenthal is confident that his team will continue to succeed.
"In order to achieve the successes of this season we had to defeat some excellent teams. There is no doubt that next year, other teams will strive to accomplish and supercede what we did this year," Wisenthal said.
"As the defending MHAL Champion and Section 9 Champion, other teams will fight just a little harder to beat Rhinebeck," added Wisenthal. "As a team, we will need to prepare that much more in order get back to where we were this year and achieve. I am sure that the returners next year will push the newcomers to work hard and to achieve the goals that are set."
Facebook Comments