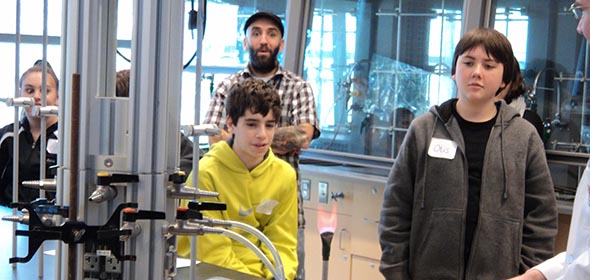 From Lego Robotics to popular discovery festivals, the five-year-old Rhinebeck Science Foundation uses a multi-disciplinary, hands-on approach to encourage students at all grade levels to appreciate the connection between their daily lives and science, math, engineering and technology.
As a collaborative effort of parents, teachers and the community, the foundation builds on a variety of programs to pique children's interest while they learn valuable skills that will carry over into other parts of their lives and perhaps give them a leg-up in the world's economy someday. As one of 5,000 similar foundations across the country, the work of the Rhinebeck foundation is driven, in part, by competition from developing nations where students earning degrees in the sciences and engineering now far outnumber those in the United States.
"We're thrilled to be able to harness the power of the Rhinebeck community in bringing exciting learning opportunities to our kids," said Laura Schulkind, a foundation board member and parent of two children who attend Rhinebeck schools. "Over the past five years, we've forged relationships with institutes of higher learning and brought those relationships to our children to offer more hands-on programs for all ages. At the same time, we have been fostering relationships with corporations, foundations and state government to open up funding sources that public schools don't have access to."
"The Gateway to Technology project was our biggest effort to date," added Stephen Jenkins, foundation vice president. Six modules were taught to 7th and 8th grade students "Design and Modeling, Magic of Electrons, Energy and the Environment" and "Science of Technology, Flight and Space, Automation and Robotics." For the project, which included the renovation of the school technology lab, the Science Foundation raised $270,000 from private foundations, a government grant, corporate sponsors and individual donations.
Last year, the foundation arranged a Citizen Science day trip for the entire 8th grade to Bard College, where they performed science experiments with Bard professors, along with a science fair for 4th and 5th graders, and a nature walk for 2nd graders with a naturalist from Bowdoin Park.
Facebook Comments