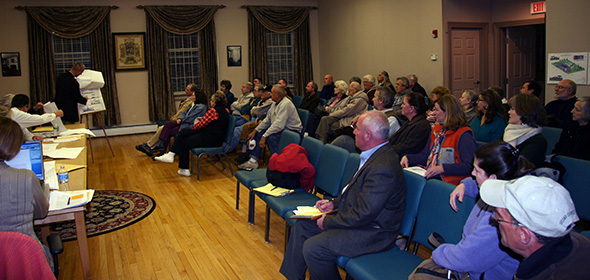 Milan's town board has adopted its 2013 budget with a 3.7 percent increase in the tax levy.
As it stands, the total budget of $2,238,019 will mean an increase of $33 for taxpayers who own a home with an assessed value of $250,000.
The tax levy increase over the state-mandated cap of 2 percent required the board to hold a public hearing and pass a local law approving the increase before voting on the budget.
At the town board meeting on Nov. 19, Councilman Jack Campisi explained the board's decision to go above the tax cap this way: "This present [2012] budget maintained the 2 percent cap and it's an under-funded budget. I think it will be necessary for us to increase it this year. You've got to have some room in there for unanticipated costs. We've cut it back as far as we could cut it."
Supervisor Bill Gallagher pointed to rising medical insurance premiums and retirement plans as some of the main challenges for keeping spending in check. "Everyone [on the board] is tuned into holding the line [on spending]," he said.
Like other municipalities, Milan faces falling mortgage tax revenues and the county's new sales tax revenue-sharing plan, which will mean a reduction of more than $20,000 for the town in 2013.
Gallagher admitted that budget decisions were difficult this year. "We're doing what we can to keep the town going in the right direction," he said.
A 2 percent pay raise for all employees is included in this year's budget. Gallagher noted that keeping current employees was a priority.
The board is pursuing several cost-saving strategies for 2013, including a shared services agreement with the town of Red Hook to jointly purchase a wood chipper. The towns have also agreed on a shared plowing arrangement in the areas where a part of one town is surrounded by the other town, such as Spring Lake Road.
"In past years, our guys would pick up the plows when they reached Red Hook and keep driving until they reached Milan again," said Gallagher. The reciprocal arrangement should save time and resources by creating more straight-forward plowing routes, he added.
A reduction in the amount the town contributes to medical insurance for retirees will mean further cost savings. At its November meeting, the board voted to approve the change from funding 80 percent of medical insurance for retirees to funding 70 percent.
The planning and zoning departments will see increased spending, with an additional $2,000 delegated to each department, almost doubling their budgets.
Campisi explained that the increase was in anticipation of the new Sunoco gas station project that will be submitted in 2013.
"All we need is one [project] to eat [the money] up. And if it isn't all used up, it all goes to next year," he said referring to the planning and zoning departments.
Facebook Comments