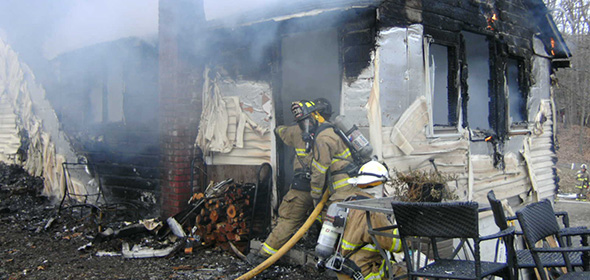 A two-alarm fire burned through a one-family home at 559 Spring Lake Road in Milan on Nov. 20.
The Milan and Livingston fire departments responded to the first alarm, arriving at 2pm to find flames burning throughout the first floor and into the second floor of the house. A second alarm was requested. with the Red Hook fire department responding.
The firefighters managed a quick knockdown of the fire and conducted a search of the residence, which indicated no one was at home at the time, according to a news release from the Milan FD. One firefighter sustained a knee injury and was transported by Northern Dutchess Paramedics to Northern Dutchess Hospital.
The cause of the fire is under investigation by the Dutchess County Fire Investigation Team.
Chief Alfred Sardaro of Milan was in command of the fire; the state police, Dutchess County Sheriff's office and Northern Dutchess Paramedics assisted at the scene. The Rhinebeck and Tivoli fire departments relocated apparatus and staffed the Milan fire stations during the fire.
According to Dutchess County online property records, the house is owned by Martin Ahlf.
Dutchess County investigators did not respond to a request for an update on their investigation by press time.
Facebook Comments