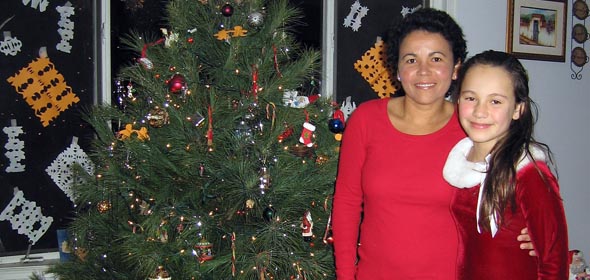 On Nov. 16, 30 New York State residents were sworn in as U.S. citizens by Secretary of Homeland Security Janet Napolitano at Rockefeller Center. The new citizens hailed from Argentina to Togo, and Marcia Belanger, born in Brazil and now a resident of Friendship Lane in Milan, was one of the recipients who had happy tears in her eyes.
While more than 3,000 people become U.S. citizens each day, Belanger and her contingent were selected for a ceremony that was televised by NBC's Today Show.
Marcia has lived in the United States for approximately 12 years. She moved here from the city of Recife in northeast Brazil, a thriving metropolis of millions. And she finds the biggest difference between her native land and her new homeland to be the weather: "I want to live to a very old age, but I don't think I will ever get used to the cold weather here," Marcia said.
Marcia lived first in Tarrytown inWestchester County, where she met her husband, Andy, while he was working as a plumber at a friend's house. They bought a house in Milan 10 years ago and were married on the front lawn. They now have an 8-year-old daughter, Lourdes Andrea.
And Marcia summed it all up by simply saying, "Life has been great."
The call from Today came as a complete surprise, she added. "I couldn't believe that I was invited. I was crying. It was amazing, unbelievable." She had already applied for citizenship and had been waiting for finalization, hoping to be eligible to vote on Nov. 6.
Family member Janet D'Arcangelo was very moved by the ceremony. "I cried throughout the show," she admitted. "It was one that everyone should watch, when we feel that we take our citizenship for granted. And what an amazing role model for her American-born daughter. We are so proud of her."
Marcia's Milan neighbors, like Barbara Michaels, were also very happy for her. "Neither she nor I know how she came to be selected, but I can think of no more worthy person for the honor. She worked hard to pass the citizenship exam, and she greatly values the right to vote," Barbara said.
Marcia very much appreciates these sentiments. "I love the people in Milan, I have great neighbors. The Hudson Valley is a great and beautiful place. This country has been really good to me. To vote is a privilege we cannot take for granted, especially women," she said.
Facebook Comments