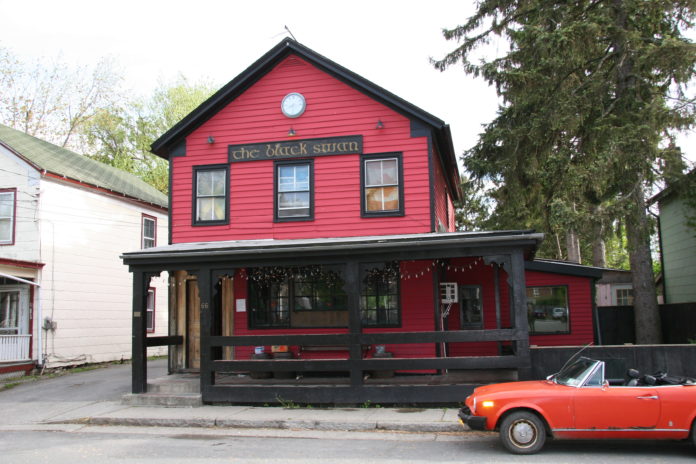 The Black Swan pub in Tivoli, a popular hangout for Bard College students, was shut down following a late-night raid by authorities and the arrests of four people, including the bar owner.
The New York State Liquor Authority (SLA) issued an emergency summary order of suspension on Dec. 12, citing the bar with 18 violations, including "underage sales, unlicensed bouncers, paying employees off the books, and failure to supervise the premises," according to an SLA news release.
The establishment's liquor license was suspended under the State Administrative Procedure Act, a suspension that will reportedly remain in effect until it is modified by the SLA or a reviewing court.
"We can open, not sure what my schedule will be, probably just for events," bar owner Mike Nickerson told The Observer. "No alcohol may be served or given away. No BYOB."
The state action followed an after-midnight raid five days earlier that was conducted jointly by the liquor authority and the Dutchess County Sheriff's Office.
In that raid, according to a sheriff's office news release, Nickerson of Rhinecliff, and bartenders Jonathan Nandor of Red Hook and Sarah Munger of East Durham were arrested and charged with two misdemeanors: prohibited sales under the state Alcoholic Beverages Control law and unlawfully dealing with a child.
One patron, Benjamin Moss, 19, of Boston, Mass., was arrested and charged with criminal possession of a forged instrument, a misdemeanor.
The cases were to be heard in the Village of Tivoli Court on Dec. 17.
"The Liquor Authority has had complaints of underage drinking, and so have I," said Lieutenant Frank LaMonica of the Dutchess County Sheriff's Office. "The last complaint I had was from a parent of a student complaining that their kids were drinking who were underage."
"I'm very proud of the Sheriff's Office and the SLA for taking this issue so seriously," said Tivoli Mayor Bryan Cranna. "It's a serious violation, and it needs to be treated as that."
Cranna said that the village has been in communication with the SLA for about the past six months regarding complaints about the Black Swan.
Facebook Comments