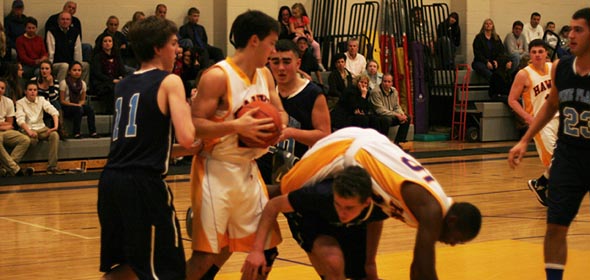 Rhinebeck boys basketball is running an undersized squad this year, a fact that was disastrously evident in their first home game against Pine Plains on Mon., Dec. 10. Purple lost 68-27 to a Bombers squad featuring a pair of 6'7" center/forwards, brothers Zach and Tyler Lydon.
Pine Plains went on a 7-0 run to open the first quarter, but Rhinebeck would sink two 3-pointers to pull within three points of the Bombers at the five-minute mark. That would be as close as the Hawks would come to Pine Plains for the rest of the game. In the closing minutes of the first, Pine Plains fired up a fervent half court press that forced three straight bleacher-bound Rhinebeck passes. The first quarter ended with a 27-6 Pine Plains lead, courtesy of their strong front court.
Rhinebeck relied on a somewhat-effective double team going into the second quarter and scored their first field goal since the first quarter with a Hunter Brandt trey with 6:20 left on the clock; Tyler Lydon responded with an emphatic dunk over Purple's Andrew Chardavoine. A rattled Rhinebeck squad left the court after the quarter trailing Pine Plains, 47-14.
Pine Plains pulled their bigs once the game was in hand at the end of the third, allowing Rhinebeck to play without any serious mismatches. Playing small ball against a still-potent Bombers second team at the tail-end of the third, Rhinebeck was afforded the chance to play inside the three point arc and scored six points on three 2-point field goals, two from Eric Rodriguez and one from Hunter Brandt. Sean Phelan pumped in two 2-point field goals in the fourth, and Sam Tigges put down a 3-pointer. The Hawks tied the Bombers in scoring in the fourth quarter, putting up 7 points.
Pine Plains' Justin Cooper led all scorers with 17 points; Rhinebeck's Hunter Brandt led Purple with 8. The Hawks' next Mid-Hudson Athletic League game will be against Red Hook at Bard College on Dec. 22 at 5:30pm.
Facebook Comments