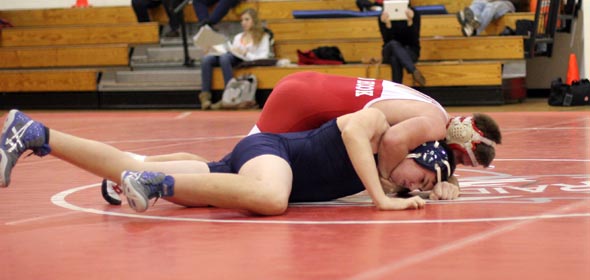 It was a tale of two meets for Big Red in Red Hook wrestling's home-opening dual meet against an underpowered John S. Burke squad and a stacked Highland team on Dec. 12 at Linden Avenue Middle School.
Red first grappled with Burke. There were five "no contests" in the meet, in the 99, 126, 132, 160, and 220 weight classes, and four Red Hook victories by forfeit, awarded since Burke did not have a wrestler in those weight classes, awarded to Benson (106), Dan Ducey (182), Darren Coon (195), and Travis Coon (285). Anthony Depaoli (152) and Mike Rauch (170) were Red's only full-match winners, scoring against John Longo after 1:31 and Joseph Tobin after :49 seconds of wrestling, respectively.
Red Hook's Henry Tynes (113) and Morgan Evans (120) each lost by pin to Burke. John Torres (138) lost to Phillip Juliano , 6-4, and Leif Christensen (145) lost to Miles Anthony, 3-2, in a pair of very narrow decisions. Red Hook, thanks to forfeits, would double Burke's overall score and beat the team 36-18.
The script was flipped when the Raiders faced Highland in their next meet later that day. Highland recorded three wins on forfeit to Red Hook's one, which was awarded to Taylor Benson. There were no "no contests" recorded. Red Hook looked overmatched in the early stages of the meet, working with an 18-point deficit halfway through. Three straight Red Hook wins – an Aaron Barkstrom pin over Andrew Soleman at 5:21, a Torres pin of Mike Mekle at 1:56, and a Christensen pin of Jerry Jackson at 1:33 – at the end of the match, combined with a Ben Zitz (220) win over Omar Ruiz at 3:51, brought Red Hook to a respectable 48-42 loss, in a meet that started on a rough note.
Facebook Comments