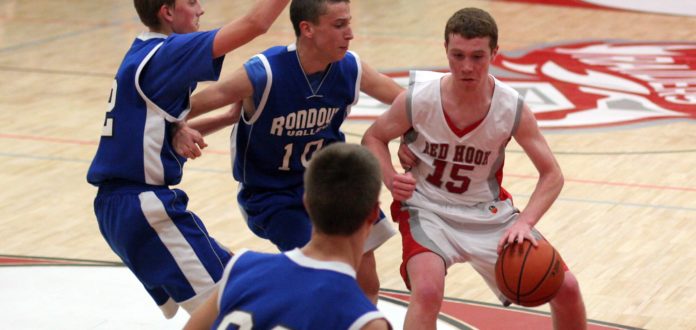 The Matt Hayes coaching era in Red Hook basketball kicked off with the team's first home win on Friday, Dec. 15: a convincing, if spotty, 61-33 victory over the Rondout Ganders.
Hayes ran a small starting five against the Ganders, opting to sit senior bigs Brendan Coleman and Gabe Insogna, as well as sophomore Will Avis. Red, in the first quarter, moved the ball very nicely and drained three treys, two coming off the fingers of senior Mike Rogers and one from Nick Michitsch. Luke White also had four points in the paint, and Dennis Hare converted two free throws to bring Red Hook to 19 points total in the first quarter. Rondout scored 6 on two field goals and two sunk free throws.
Red ran roughshod over Rondout in the second, mostly due to Paddy Parr's off-the-charts quarter of play and the Ganders' lack of scoring acumen. Parr put down three triples and a two-point field goal, scoring 11. All three of Red's benchbound bigs made their way into the game in the second quarter, with Insogna and Avis each netting a two-point field goal and Brandon Coleman sinking two out of four free throws; Coleman was hacked on a breakaway drive and was slow to get up. Red Hook posted 17 points in the second quarter; Roundout had three. Red Hook went to the locker room leading 36-9.
But the red hot Raiders cooled down by the third, and ambled through a less-than-awesome second half.
After the game, Coach Hayes said of the second half, "We just didn't seem like the same team. We ended up almost tripling our turnovers in the second half. They ended up outrebounding us, even with the size advantage we had out there."
Mike Rogers and Nolan Dalton both sunk threes, Paddy Parr and Luke White each had a two-point field goal, and Dennis Hare had two. Red Hook scored 14 to Rondout's 11 in the third.
Facebook Comments