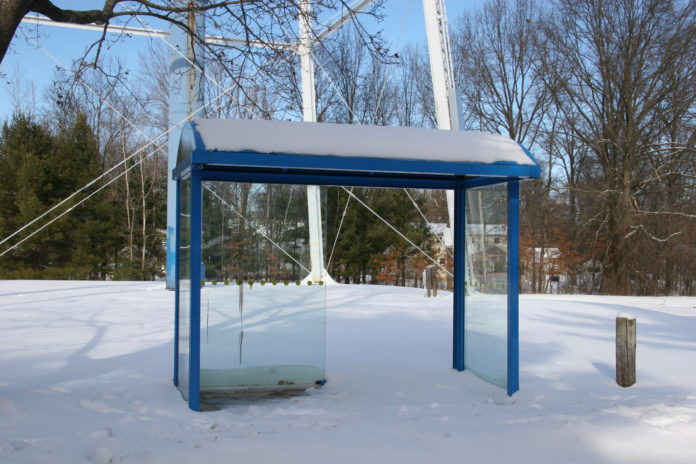 The Village of Tivoli has completed construction of a new bus shelter on Pine Street, but the lack of lighting in the area is proving to be an obstacle to re-routing service.
According to village officials, the new stop, is meant to alleviate traffic congestion along Broadway and clear space for pedestrians at the current bus stop in front of the Tivoli Post Office. The new Pine Street stop is located one block north of the post office, and the two areas are connected by the sidewalk along Pine Street.
Both the Dutchess County Loop Bus and the Bard College Student Shuttle are set to use the new service location, but the changes will not take effect until the area is properly lit, due to safety concerns.
Village Trustee Joel Griffith, who is leading the effort get the new stop operational, has been investigating lighting options. The location is not adjacent to any existing electrical hook-up, he said, which complicates the installation process.
Griffith said that Bard College has offered to donate a lighting fixture that the village would install and maintain. But, he added, the fixture would incur an annual metering fee of approximately $400 from Central Hudson.
In light of that cost, Griffith is investigating the possibility of a solar powered setup, which he said could be significantly more expensive to install but would provide energy savings over time.
The Board of Trustees originally hoped that the bus service change would coincide with the beginning of Bard College's new semester on Jan. 28, but it remains uncertain if that goal will be met.
The shelter was donated to the village by the Dutchess County Department of Transportation as part of a program to improve service quality along the Loop Bus route.
Facebook Comments