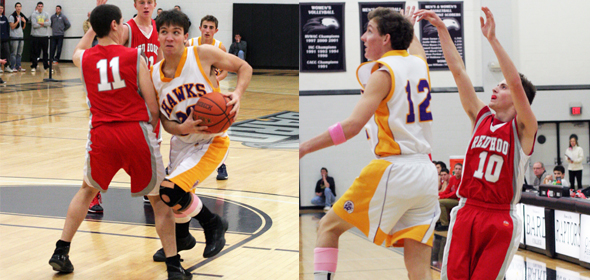 It was a rough night for the Rhinebeck Hawks boys basketball team at the annual James A. Kyle Coaches vs. Cancer classic on Dec. 22. Purple tangled with Matt Hayes' hot-shooting Red Hook Raiders squad, losing 69-38 in a game where Red refused to take the pedal off the metal.
With the win, Red improved to 3-0 on the season, and Rhinebeck dropped to 1-3.
The Stevenson Gymnasium was filled to capacity for the yearly matchup, and the crowd was boisterous. Red Hook's Paddy Parr scored the game's first basket on a turnaround hook in the low key, and was followed by trey from Red Hook center/forward Luke White. Red Hook had a collective hot hand in the first quarter, draining four three-point field goals – two each from Mike Rodgers and Parr, and one from Luke White. Nick Hoynes and Luke Matthews each drained a three for Rhinebeck in the first. The Raiders came out of the first leading 23-13, led by Parr with 8 points; Rhinebeck's Luke Matthews led the Hawks with four points, keying a three-pointer and a sunk free throw.
John Walsh, Rhinebeck's 6'4" center, scored the quarter's first field goal on a muscle lay-up. Red Hook head coach Hayes sent in Gabe Insogna and Brendan Coleman to counter, then sent in Will Avis to replace Coleman. Red Hook looked confused running their bigs against a chock-full-of-guards Rhinebeck lineup, and allowed the Hawks to pull within eight points late in the quarter, 28-20.
Playing trap defense after getting their act together with three minutes left on the clock, Red found their groove again, taking a 37-23 lead into the locker room after a big three from Nick Michitsch, a Luke White lay-in, and a Dennis Hare buzzer-beating leaner at the end of the quarter. Rhinebeck scored three in the final two minutes, on a Paul Henke sunk free-throw and a Hoynes two-point field goal. Matthews led Purple in scoring in the second with three points, and Michitsch and Hare shared the Red Hook lead with three points each.
"It was good – we defended, but we've got to give them credit. They were hitting a lot of shots that were contested. If they were uncontested shots, I'd be upset; but we've got guys closing out but they're putting them down," Rhinebeck head coach David Aierstok told the Observer at the half.
Facebook Comments