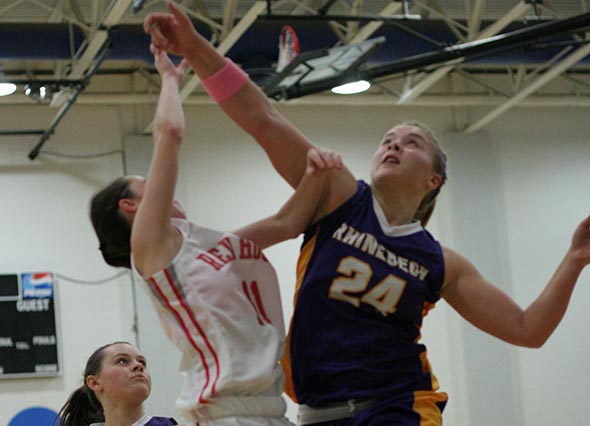 The Red Hook girls basketball squad faced down the Rhinebeck Hawks on Dec. 22 in Bard's Stevenson Gymnasium in the James A. Kyle Coaches vs. Cancer classic, dropping them in a 64-31 blowout behind strong performances by Julianne Wilkinson (24 points) and Kyla Gabriel (17).
Both the Hawks and Raiders came into the game with formidable records; 4-1 and 2-0 respectively. Red Hook opened with a field goal by senior Ashley Pica but both teams played imposing defense to begin the game, making it difficult for either to put points on the board, evidenced by the lackluster score of 8-2 to close the first.
Red Hook, underwhelming in the game's opening quarter, came back with a vengeance in the second. The Raiders played offense with seemingly psychic prowess as they inflated their lead to 19-2, going on a 17-point run over the helpless Rhinebeck defense. Early fouls let both teams reach the bonus situation early in the second, assuring repeated trips to the foul line. This was Rhinebeck's saving grace as it was their only source of points in the second, making eight of their 17 foul shots, six of which were scored by Meredith Mimoso. The half ended with the Raiders up 35-10.
The Hawks came out hot in the third, playing offense with a renewed vigor and climbing back to a 37-17 score. This streak was broken quickly by Red Hook's captain, Kyla Gabriel, who sliced through Rhinebeck's defense, delivering a disheartening blow to the Hawks by scoring in the paint, under pressure of three Rhinebeck defenders.
Both teams came out in the fourth looking a little fatigued. Red Hook managed to score a respectable 14 points to Rhinebeck's eight for the final quarter.
Red Hook's coach Pam White told the Observer after the game, "I'm obviously happy we won the game, but I believe we have a lot to improve on, and today's score doesn't give a great indication of the performance we were hoping to give."
The top scorers for Rhinebeck were Mimoso with 13 and Sam Casatta with eight.
Facebook Comments