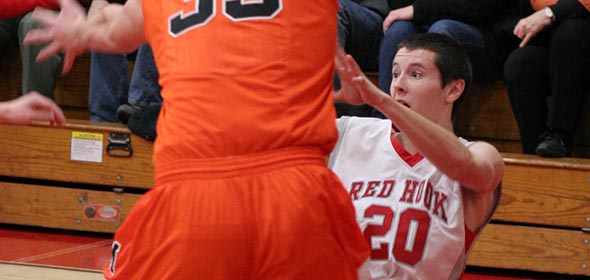 The fans at the Red Hook High School gymnasium were revved up for the long-awaited rematch of last year's MHAL Sectional Semi-Finals, in which Marlboro scraped out a 67-65 win against the Red Raiders in front of a capacity crowd at SUNY Ulster.
But they didn't get what they came for: Marlboro reaffirmed their dominance in the matchup, beating Red 69-56 Jan. 11.
The Raiders had trouble dealing with a very physical, very strong Marlboro early on. The Iron Dukes played heads-up defense and didn't allow Red Hook's shooting guards any space to create. Marlboro went on an early run, leading 10-3 at 3:03. Red picked up two threes, one from Nick Michitsch and one sunk with three seconds left by Mike Rogers cut the Marlboro lead to 15-11 going into the second.
The story of the night was Red's inability to manufacture a scoring run, relying instead on a very fast, very crafty defense to generate steals leading to breakaway hoops. It was evident in the second quarter, when the desperately out-rebounded Raiders hacked Marlboro into the bonus with 6:43 left on the clock. Red, dominated on the glass by Marlboro's center/forwards Alex Smith and Tyler Banks, couldn't make anything happen, and went to the locker room trailing 33-21.
Coach Matt Hayes' squad closed to within six points of Marlboro with 3:10 left on the clock at 40-34. But sloppy play doomed Red Hook late in the game, including one series of plays late in the third that included three fouls against the Raiders.
Rough stuff.
But Michitsch buried a trey in the final seconds of the period to end the quarter 47-37. Red couldn't dig itself out of the 10-point deficit in the fourth, though, in spite of some heady play from Paddy Parr, who poured in six points in the final period.
"Marlboro is a very physical team. They're not 6'6" across the line, but they're thick and they're aggressive and they won the rebounding margin 39-15. We gave up eight offensive rebounds in the fourth quarter, and they got 10 points off of them," Hayes told The Observer after the game.
Rogers led Red Hook with 19 points.
[nggallery id=1]
Photos by Kristofer Munn
Facebook Comments