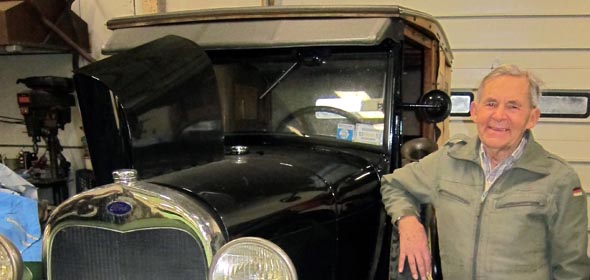 The first time I met George Verrilli, he was backside up, deep in the engine compartment of his 1929 Model A Ford station wagon, in a dusty back bay at Eastgate Motors, his self-described "showroom/museum/clubhouse open to anyone with a keen interest in cars" in Red Hook's Chocolate Factory.
Although "Dr. Verrilli" is legendary for his obstetrical skills – he'd delivered two of my nephews and a niece — I'd come for his business savvy. As the person who'd saved and reinvented the Chocolate Factory as a thriving local business hive, he could really help the town's Economic Development Committee, which I chair.
"Excuse me, is Dr. Verrilli here today?"
George emerged, twinkle in his eye, smiling, wiping the grease from his hands. We were soon snug over coffee and Italian biscotti ("the real thing, from Price Club") in his cozy office, surrounded by a virtual history of international road racing, including a photo of George at the wheel of a speeding Austin-Healey at the start of the 1956 Mille Miglia, in Italy. (His love of fast cars, road racing in Italy and fluent Italian stems from his days as a medical student while at the University of Padua in the early 1950s.)
For would-be Stirling Mosses like me who came of age in the 1960s doing four-wheel drifts on Red Hook's then mostly dirt roads, talking to someone who actually competed in one of the world's greatest open-road endurance races is like dying and going to heaven.
But my first question was about George's babies, not his cars.
"How many?" I asked. "15,129," he shot back, adding modestly, "All I did was just say 'Push!' I so admire women."
Understandable praise, given that he is the son of a pediatrician, father of seven children, creator of the "birth center" approach to in-hospital child delivery, founder of Northern Dutchess Hospital's Birth Center, and author of several books on obstetric subjects. Although he stopped delivering babies himself a few years ago, at 84, George still maintains office hours three days a week, following in the footsteps of such revered past family doctors as Tivoli's Dave Block, and Fred Zipser in Red Hook.
His continuing enthusiasm for and dedication to the community are palpable. "I love Red Hook," he declares. "We have a solid future. There's lots of talent here, and lots more talented people moving in all the time. The challenge is how to keep our kids here, however. We must create jobs."
Although George refers to himself self-deprecatingly as "an old geezer who takes care of old cars and old women," I'm pleased to say he's not.
He's the newest member of the Red Hook Economic Development Committee, focused on the future.
Facebook Comments