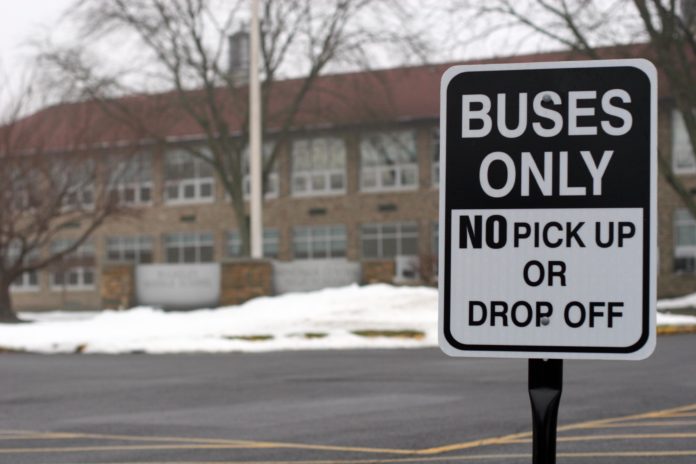 Parents of students who attend Rhinebeck schools have been monitoring their radios and email accounts as threats of a school bus driver strike loom.
Contract negotiations between Teamsters Local 445, which represents the bus drivers and bus monitors, and Durham School Services/A&E Transportation, which contracts with Rhinebeck Central School District, resumed last week, but by press time the issue had not yet been resolved.
However, the company has assured the school district that contingency plans are in place in the event of a strike and that the district's 700-plus students who ride the buses will be transported as usual.
Sean Broderick, regional manager for Durham, said, "Our primary focus is making sure our students have safe and reliable transportation to make the most of their school day and benefit from the services they receive. Students and families come first for us in any circumstance. We strongly believe that."
Rhinebeck school district officials have told parents that information will be communicated via the District website, email or district emergency notification system. They also reminded parents that "the bus drivers and bus monitors are employees of A&E/Durham School Services. They are not employees of the Rhinebeck Central School District. The school district is not, and cannot be, involved in these private sector contract negotiations between A&E/Durham and the Teamsters."
Representatives of Local 445 had attended the school district's Dec. 11 board of education meeting to tell residents that their members had overwhelmingly approved a strike if contract negotiations fail. They are seeking higher wages, more training and development, and strengthened safety procedures.
Adrian Huff, secretary/treasurer and principal officer of Local 445, said union leaders are looking what they call a "living wage" because current rates have lead to a 35 percent turnover rate and low morale.
Huff also said that the members feel that the constantly revolving drivers and monitors make training and development difficult, if not impossible. "When the kids climb up the steps to our buses, they're become our kids. We want them to be safe. We care about them," he said.
Blaine Krage, public relations director in A&E/Durham School Services' Illinois office, told The Observer that the company has a proven safety record and considers safety its number one priority. Krage declined to comment on the contract negotiations, saying only that Durham is working diligently with the union to secure a contract and provide uninterrupted service to Rhinebeck students.
Huff said Sunday that the union vote on the contract will come no earlier than next week because of scheduling conflicts.
Facebook Comments