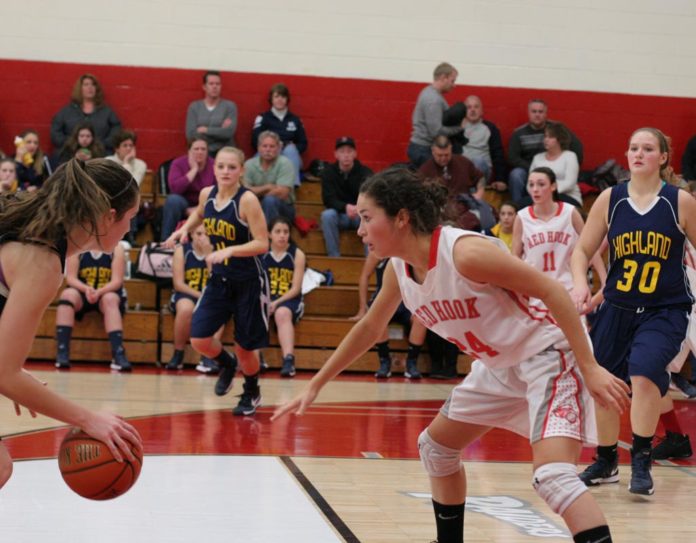 Red Hook girls basketball started slow against the Highland Huskies in Red Hook on Jan. 4, but cruised to a victory in the second half thanks to guards Julianne Wilkinson and Kyla Gabriel, who combined for 40 of Red's points in the 49-31 Mid-Hudson Athletic League win.
Wilkinson stroked a three from the top of the key to open up the game for Red Hook; Her command of the court in the opening quarter won her the attention of Highland, who double-teamed her down the stretch in the period, after she peeled off another three shots from beyond the arc — all misses — and drained a field goal. The Red Hook guard led scorers in the first with 5 points.
Red had trouble finding their flow on offense early, throwing low bounce passes off the mark and, at around the 5:40 mark, failed to inbound the ball on three attempts in a row under Highland pressure. Red Hook head coach Pam White called for a full-court press in the waning minutes of the quarter, which ended 9-9.
Gabriel, a terror in the paint all night, pulled a hesitation move followed by a cut to the basket to score the first two-point field goal of the second. Red's defense, their signature on the season so far, began finally bubbling, and the Lady Raiders scored on two fast-break turnovers in a row. Wilkinson scored on two two-point floaters in the lane late in the quarter and flushed a very-long-range three; she would finish the quarter with nine points. Gabriel scored in the paint on another turnover, laying down the last field goal of the quarter. Red Hook went into the locker room 27-21.
Facebook Comments