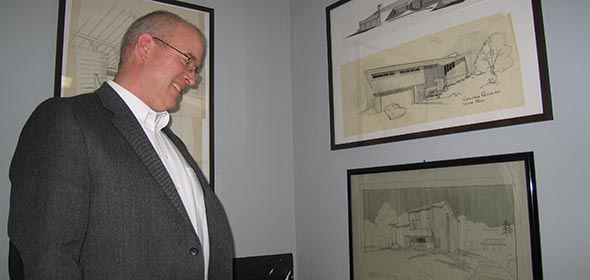 Tim Lynch is Red Hook Engineering.
"The year before last, I decided I'd had enough working for big corporations, and I wanted to be my own boss again," Tim said. His background will serve him well, since in addition to his 15 years of experience as an engineer, he is also a licensed architect.
Tim grew up in Hyde Park, got his degrees from Rensselaer Polytechnic Institute and University of Wisconsin, and returned to the Hudson Valley, where he worked in construction and renovation. "My father was an architect," Tim said. "I worked for him, and he encouraged me to get the degree in engineering. In this past year, I became a licensed architect as well, although I'm not a traditional architect. I utilize my experience working with my father, and I think the combination of architecture and engineering gives me a better understanding of what my clients need."
Engineers are often perceived as extremely creative, but Tim does not consider himself an artist. "My father is the artist," he admitted. "Engineering is more about finding a problem and solving it, as opposed to creating unusual situations. I am a structural engineer, but I do a lot of civil engineering as well. I'm interested in a broad spectrum of things."
Tim embraces the challenge of emerging technology, and is LEED-certified. The Leadership in Energy and Environmental Design provides a rating system for the design, construction and operation of high-performance "green" buildings, homes, and neighborhoods. Tim said, "It is certainly a challenge to keep up with advances in technology and energy savings, but it's something we need to do."
Tim and his wife decided to build their own home in Red Hook, partly because of the school system. Their two children now attend Red Hook High School, and the whole family feels it has been a good experience for them.
Tim is also optimistic about the ongoing development of Red Hook.
"That's why I decided to go back into business in Red Hook," he said. "I think a lot of the land use decisions the town has made in recent years make a lot of sense. Zoning codes put in place in the 1970's were due to be redone. We are approaching a new style of zoning with more protection with regard to open space and a lot more thought going into the planning of how growth will take place."
Al Bruno chose Red Hook Engineering for the work being done on a new addition to his home in Staatsburg and recalled why: "I remember meeting Tim, and I liked him. He has my best interests in mind, especially since we have just broken ground in this cold weather. He is very responsive and right there any time, doing whatever it takes to get the job done right."
"My hope is that in the future I will be more of a coordinator and manager of specialists if need be, but right now I offer professional service in a wide array of areas," Tim said. "I think one of the advantages I have is that I am open to my clients' ideas."
Red Hook Engineering, PC
7472 South Broadway, 2nd Floor
Red Hook
845-758-5434
www.talynch.com
tal@talynch.com
Facebook Comments