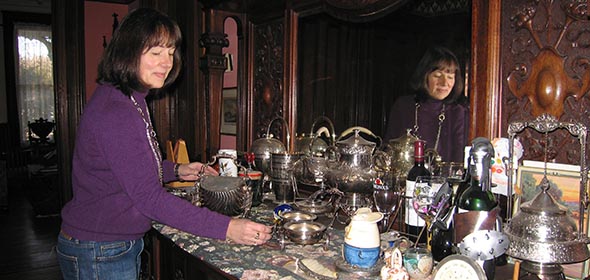 Beth Pagano and her husband, Harold Gruber, were no strangers to Victorian architecture and the amount of work involved in its restoration when they encountered the unmistakable blue landmark house in Red Hook now known as The Grand Dutchess.
The couple had already transformed brownstones in Brooklyn, so they were pleased at the quantity of original features they encountered in the house built in 1874: marble fireplace mantels, woodwork, doors, floors, and detailed hardware. What came as a complete surprise to them was the remarkable condition everything was in.
In its long, colorful history, The Grand Dutchess has been a private home, a hotel, a boarding house, a rooming house, and even a school. But Beth pointed out, "The owners have always resided here. That is why it was so well-maintained."
"It only took us six months to add upstairs bathrooms and add a little more electric," she said.
The Dutchess was first a home built by John W. "Bill" Hoffman, owner of a shipping business in Rhinecliff, but his family decided to take in boarders after he died in 1883. Thus began the Hoffman Hotel and Garage (which was an adjoining carriage house and now a private home). The Hoffman family owned the house until 1945, even as it also served as Red Hook High School from 1937-1939 while what is now the Linden Avenue Middle School was being built.
The second owners, John Morris and his wife, owned the home, which they renamed The Dutchess Hotel after their Scottish terrier, from 1945 to 1972. Their nine grandchildren have all visited Beth and shared memories and anecdotes, some about the bar in the basement… was it a speakeasy or not? The Morris family sold it in 1972 to the Hoag family, who made it a boarding room/guesthouse and called it Hoag Manor. However, it also became known as the "Lonely Hearts Club" because of its single male clientele. Evelyn Kruger then bought it in 1986 as a private home, and she is responsible for painting it the current distinctive blue.
Beth has to think before deciding on her favorite guest room of the house: lovely, large Loretta's Lounge, the only guest room on the second floor, complete with whirlpool bath. There are four guest rooms on the third floor, all corner rooms infused with sunlight, three with their own bathrooms, one a suite, each with attention to the detail that defines its personality, and all named after either family or close friends.
While much of the furniture and antiques were brought from the couple's restored home in Brooklyn when they moved here in 1994, the Hudson Valley yielded many more treasures, such as the intriguing silver-plated tantalus, an unusual decanter stand. Beth is a firm believer in "form following function," and there is much fun in the functionality of the hundreds of fascinating pieces that adorn shelves, mantels, tables, sideboards, and the piano. The premises are also available as a unique setting for conferences or meetings of up to 20 people.
The kitchen is one room guests can't share, but Beth seems to enjoy it immensely, especially since its stunning renovation by local architect and neighbor Brent Kovalchik, RA. Beth cooks during the week, Harold on the weekends, and they both love assisting guests as they plan their itineraries. It is hard to believe that the two need the help of only one assistant, Jenna, and the occasional college student.
"It's a lot of fun, but it's a lot of work," Beth said. "We have had guests from all over the world. Sometimes during peak season, none of the guests at the dining room table speak English. Peak season used to always be autumn; however, there is now also an influx of guests due to Bard College's yearly Summerscape arts festival from mid-July to early September."
Lily Chin is one of the many appreciative return visitors to The Grand Dutchess, regularly staying there during the October Sheep and Wool Festival, where she is an instructor. "The personal touch that a bed and breakfast inn provides is why I prefer staying at the Grand Dutchess rather than some anonymous motel or hotel," she said. "In particular, Beth is a particularly fabulous cook, and I look forward to her breakfasts. The Victorian charm of her decor is not to be missed. Furthermore, meeting her lovely family is a big bonus. There is great conversation and camaraderie, especially in the evenings. I truly feel her home is like a home away from home. What more can you ask for?"
Beth and Harold opened the grand front doors to the public in June 1995. "We wanted to become part of the community, so we held a contest — open to anyone from Red Hook — to name it. That's how it came to be called The Grand Dutchess," she said.
The family chose to move here specifically because of the Red Hook school system, which Beth's son, Alexander, attends. Beth has become involved in the Red Hook community as more than a parent and business-owner. She is also a member of the Village Planning Board and very committed to the daily down-to-earth plans that benefit Red Hook.
Has she seen changes in Red Hook over the last two decades?
"Change is always slow, especially in a tight-knit community," Beth said. "The changes have been good. We all work hard to keep make this a vibrant village and to keep it vibrant into the future."
The Grand Dutchess
A Victorian Bed & Breakfast
7571 Old Post Road
Red Hook
845-758-5818
www.granddutchess.com
dutchessinnkeeper@earthlink.net
Facebook Comments