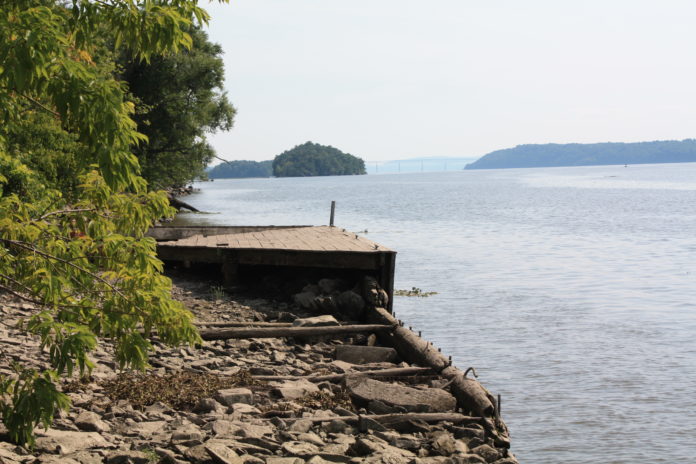 Tivoli village officials are increasing pressure on the Tivoli Sailing Company to remove its small wooden dock from village property. The dock, located just south of the Friendship Street railroad crossing, has been a point of concern for village officials since the village purchased the small strip of riverfront land from CSX Railroad.
The dock was constructed by Jerome Hollick, the founder of the Tivoli Sailing Company, who said he has been using the location to tie up boats since the year 2000. Originally, he used a modified portion of long-abandoned bulkheads for his business, he said, but in 2007 he enlisted the help of several community members to build the current structure.
Deputy Mayor Michael Leedy announced at the Jan. 16 Board of Trustees workshop meeting that Zoning Enforcement Officer Steve Cole issued the Tivoli Sailing Company a citation, giving the boating school and charter service 15 days to remove the structure. Leedy said that if the issue was not resolved in the given time-frame, the matter would be referred to Village Court.
However, Jerome Hollick, the owner of Tivoli Sailing Company, told The Observer that he has received no official letter from the village as of Jan. 26.
Hollick has said previously that he would be willing to take legal action if the village attempted to remove the dock without his consent, but he would voluntarily remove it once the village begins construction on planned waterfront development. Because he has been using the land consistently and openly for over a decade, Hollick claimed that he may be legally entitled to a prescriptive easement on the site.
He also pointed out that the purchase agreement between the village and CSX bars any demolition or construction on the property until the village has raised the required amount of money to complete its waterfront development project. Aside from the legal arguments, Hollick added that his business generates additional tourism that benefits the entire village.
Tivoli Mayor Bryan Cranna, however, insists that the dock must be removed. "This is simple. It's a structure illegally placed upon Village property. This would be no different if someone decided to open a hot dog stand in the parking lot of Village Hall," he told The Observer. "More importantly, he is encouraging people to illegally and unsafely cross the railroad tracks to access the dock."
Cranna and other board members are concerned that the village may face liability if somebody is injured because of unsafe conditions on the dock.
Facebook Comments