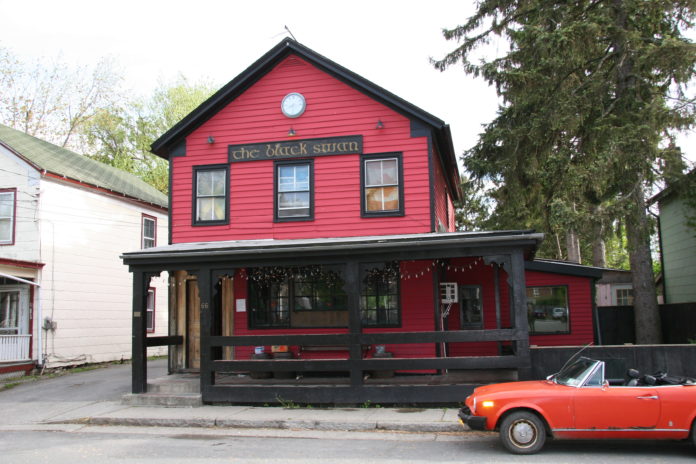 According to public information online, Black Swan pub owner Michael Nickerson has raised more than $27,000 in his effort to reopen the bar, which was closed after a December raid by state liquor authorities.
The popular Tivoli pub's liquor license was suspended Dec. 12 by the New York State Liquor Authority a week after the late-night raid, and the owner received 18 violations, including for underage drinking, unlicensed bouncers and paying employees off the books. Nickerson, two employees and a 19-year-old customer were also arrested on misdemeanor charges.
Nickerson said that the money he raised will help cover the SLA's fine of $15,000 as well as lawyers' fees and the cost of a "state of the art" ID scanner, priced at $2,000.
"Part of the problem in the past was not being able to prove that people had brought in fake IDs," he said.
The new scanner will compare the presenter's face with the ID and then record the image so there is evidence of the ID later.
"It covers you in the future," Nickerson said.
To raise money, Nickerson launched an online campaign through the site Indiegogo which provides a platform where users could contribute to a cause. The campaign, titled "Keep the Swan Swimming," ended Jan. 18 and was backed by 448 funders. Indiegogo will take 9 percent of the $24,685 raised, since the campaign did not meet its goal of $30,000.
A benefit party was thrown at The Liberty in Rhinebeck on Jan. 18 that raised more than $2,000 according to The Black Swan Pub facebook page and a film screening of Silver Linings Playbook was held Jan. 21 at Upstate Films in Rhinebeck to benefit the Black Swan.
Nickerson told The Observer, "What amazed me was the broad spectrum of people who came out to support the fundraisers. Local people, Bard alumni, friends of friends, neighbors right in the village…it really bolstered my optimism."
There are other changes that are required before the Black Swan can re-open.
Infrastructure changes are necessary, such as changing the location where liquor is kept to a spot within the first floor of the establishment in order to meet SLA requirements, according to Nickerson's Indiegogo campaign webpage.
Nickerson says he will next meet with village officials and submit a new plan of operation. Finally, there will be a hearing with the State Liquor Authority, which has the final say on whether the Black Swan will re-open.
Even with all that, Nickerson said he expects to re-open in two to three weeks.
Facebook Comments