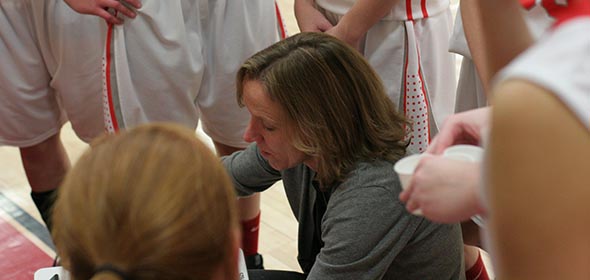 Red Hook's girls varsity basketball team is cutting a swath through the area.
Now sitting pretty at 8-3 (losses coming only against Kingston, Arlington, and Franklin Delano Roosevelt), the Lady Raiders have an average margin of victory of 27 points.
The margin remained the same Jan. 18 against a remarkably overmatched New Paltz Huguenots squad. The Hugos were playing with an eight-person bench, and crumpled immediately under the Red Hook press. Red left the first quarter leading 20-9 , with Julianne Wilkinson flushing 12 of Red Hook's points.
The game was over by the end of the second quarter. Head coach Pam White sent in the second string at 3:00, with Red Hook leading 27-5. The quarter ended with Red leading 31-12.
Red managed a six-steal sequence of series early in the third, in which Wilkinson scored eight points and Kyla Gabriel had six. The Lady Raiders managed to hold New Paltz to one field goal on the quarter and went into the fourth leading 48-14.
White let the second team in later in the fourth, and the refs let them play unfettered. Marist Parr netted a put-back lay-up and a foul shot at 3:03. Red won the game, 57-20, without breaking a sweat. Wilkinson managed eight steals and led all scorers with 23 points on the game; Mikayla Cochrane of New Paltz led the Huguenots with six. Gabriel pulled down seven rebounds and Gabriel and Emma Prior tied for Red Hook's lead in assists with three apiece.
"It was a good team performance. I like the way we pressed tonight; I liked our defense. A lot of kids got to play tonight, and a bunch of kids got to score," White told The Observer after the game. Nine of the 13 active Lady Raiders contributed points on the night.
Facebook Comments