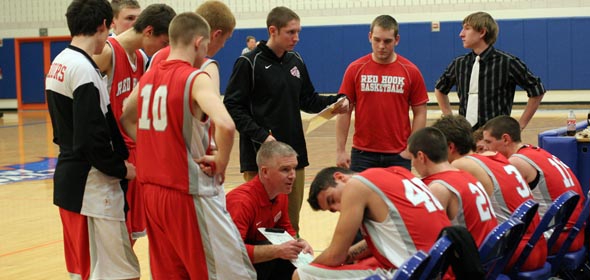 It's been the same, tenuous story all season for Red Hook's boys basketball team – all guards, no muscle, hawkeye shooting. The formula has worked well at times this season, but Red hasn't dominated any serious opponents and has struggled against quality teams because of matchup problems.
Never was that more evident than in the Jan. 19 game against a stacked Pine Plains squad played at SUNY New Paltz's Elting Gymnasium. Red Hook ran a starting lineup of Mike Rodgers, Nolan Dalton, Paddy Parr, Dennis Hare, and 6'6"sophomore Will Avis, whose unenviable job it was to deal with Pine Plains' monster backcourt, which consisted of forwards 6'8" Tyler Lydon and 6'9" Zachary Lydon and center Adam Miller at 6'5".
Red managed to keep it tight in the first quarter, and eventually escaped the quarter with a lead. Pine Plains sunk the Red Hook crowd within the first 20 seconds of the game, after a dunk from Tyler Lydon off a turnover-to-breakaway. The Raiders had no luck in the middle, relying on perimeter passes and looking for threes and long-range twos. They managed to drain three three-pointers and three two-point field goals, including a buzzer-beating baby-hook from Avis to take the lead, 15-14, going into the second quarter. But only two of Red Hook's baskets in the period were in the paint.
Then Pine Plains got savvy. Playing tight, man-up defense and relying on mismatches – including 5'7" Red Hook guard Nick Michitsch doing his best to cover Zach Lydon – a 14" height difference – Pine Plains dominated the boards and threw Red Hook for a defensive loop. The Bombers went on an 8-0 run that was stopped at 2:56 by a lay-in from Red Hook's Brandon Coleman off a Luke White assist. Pine Plains managed a pair of easy baskets in the paint in the final seconds to make the score 27-19 going into halftime.
Avis had Red's first basket of the third quarter on a dish from Dalton, but only after Pine Plains had put down two two-point field goals. Coach Matt Hayes called a timeout at 5:23 with the Bombers leading, 35-21. After the timeout, Parr took over for Red Hook, sinking two threes and a pair of free throws; his second trey brought Red within eight points of the Bombers, 39-31. But the Bombers drained another two baskets to kill the quarter 43-31.
Facebook Comments