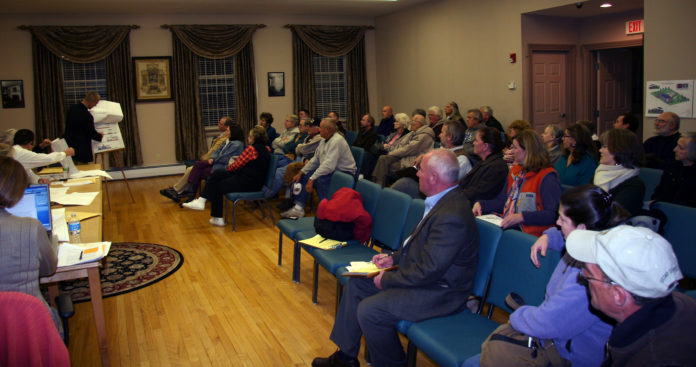 Drivers who exit the Taconic Parkway at Route 199 looking for gas face a 10-mile drive west to the Village of Red Hook to find the nearest fuel station.
But not for long. There may soon be two stations closer by — to the parkway, and each other.
As the Observer reported earlier this year, CPD Energy Corp of New Paltz has received approvals from the Town of Milan to build a new Mobil station and convenience store on the site of the old station that burned down on Route 199, just 1,000 feet west of the Taconic.
And last week, at an informational meeting organized by the Milan Planning Board at Milan Town Hall, a company called Cobble Pond stepped forward with plans to build a new Sunoco gas station and market a mile further west from that.
A crowd of more than 40 residents heard the proposal for a Sunoco station and convenience store to be built on a 1.16 acre property, at 1167 Route 199, that was formerly Norma's Country Store. Located 1.6 miles west of the parkway, the station would be built between Bayhorse Gazebos and Barns and Enigma. Unlike the former Mobil site, this property has not had gas station at that location in the past.
"I know we've been searching for a fuel station in this town for, well, almost 10 years now," said planning board member Jim Jeffreys in remarks opening the meeting on Nov. 29.
The proposed project would require multiple variances from the Milan Zoning Board of Appeals including for the size of the store — 4,218 square feet compared to the 2,500 square feet allowed in the code — and for the placement of the facility close to the property line. The facility would have 8-10 employees when fully operational.
The proposal also requests an internally lit monument sign with LED prices along Route 199. But Milan zoning law, like many municipalities in the Hudson Valley, no longer allows internally lit signs, a move designed to keep the small town and rural feel.
Rocco Mancini, chair of Milan's Zoning Board of Appeals, was in the audience and weighed in on signage issue.
Facebook Comments