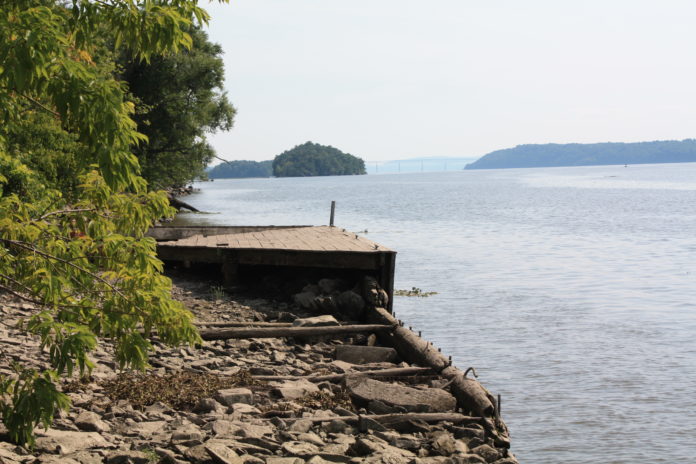 Despite the increasingly tempestuous legal waters, Captain Jerome Crandall-Hollick of the Tivoli Sailing Company is standing firm against a village order that he dismantle and cease use of his small riverfront dock.
The dock, located just south of the Friendship Street railroad crossing, was constructed by Hollick and others in 2007, before the village signed a purchase agreement with CSX Railroad for the property in 2010.
Tivoli Mayor Bryan Cranna and other village trustees have called the dock an illegal structure that represents an insurance liability to the village and skirts the planning and zoning processes that other business must go through. Village Zoning Enforcement Officer Steve Cole issued a letter to Crandall-Hollick ordering the dock's removal by Feb. 15.
Hollick, however, said that the village's approach is unnecessarily heavy-handed and will only hamper Tivoli residents' enjoyment of and access to the river.
"I have previously proposed, and continue to suggest, that the best solution would be for me to voluntarily give up the dock once it is possible to build a true community dock along the river," Hollick told The Observer.
He was referring to the village's ongoing waterfront revitalization project, which seeks to build a small park and community dock on the west side of the tracks. Hollick had been a member of the revitalization committee before he was removed by Cranna last year over a perceived conflict of interest.
Hollick also said, on the issue of safety, that removing his dock would not prevent residents from gathering along the Hudson.
"The village suggests my dock may be a safety hazard. But dock or no dock, people will gather at the river. My dock is not the 'attractive nuisance' – it is the river itself," he said. "Is it safer for people to balance on the rocks, or to sit on my dock? As for me, I am a licensed captain, Coast Guard-inspected, with a properly insured business operation. Given the chance, I will happily improve the dock, add guard rails, and continue to invite the public to enjoy it."
If the village sticks to the Feb. 15 deadline, Hollick is seems prepared to take the matter up in court.
"I understand there are strong legal arguments that I have vested rights in the dock," he said, referring to the possibility that the court may find he has a prescriptive easement on the property. New York State law states that, under certain conditions, long-term and uninterrupted use can confer an individual with the right to continued access.
"If I prevail, the dock could be there to stay, and I would be less willing to give up rights after having to fight for them," he said. "Why deprive the public of a useful resource now, while destroying my cooperation in the future?"
Facebook Comments