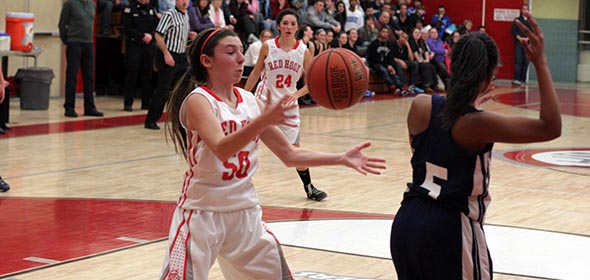 Red Hook's Lady Raiders pulled in Red Hook and Rhinebeck's only post-season roundball win so far on Wednesday, beating the Saugerties Sawyers, 58-39, after the Lady Hawks fell to Tri-Valley on Monday and the Raiders lost to Saugerties Tuesday in the opening legs of their respective playoff tournaments.
Emma Prior netted the game's first hoop at 7:02 on an assist from Talia Stortini. The Sawyers had an early bead on Kyla Gabriel, beating her to open positions, but had no answer for Julianne Wilkinson. Wilkinson went two-for-two from the stripe at 5:29, after being hacked on a move to the hoop and scored on a jumper off a steal only four seconds later. Wilkinson finished with nine on the quarter and led Red Hook to a 17-9 lead at the end of the period.
Red's only hiccup on the period was collecting seven fouls; they avoided any in the second quarter.
Things cooled a bit for Red in the second, but at least Gabriel managed a cool two baskets, one on a double pump, streaking lay-up coming down the lane at 6:55 and the other on a baseline drive at 4:29.
The story of the second quarter, though, was the emergence of Jessica Wilkinson. The younger Wilkinson flushed 14 points on the night, and opened her scoring night in the second quarter on a pair of sunk free throws at 4:13 and a set shot at 1:00. After her first field goal, and virtually every time she scored, the Red Hook crowd would chant "She's in eighth grade."
"I thought [Jessica] played great, coming off of the bench, dealing with the pressure – she scored some really big shots. She's tough, she's got ice running through her veins for an eighth grader," Red Hook head coach Pam White told The Observer after the game.
Facebook Comments