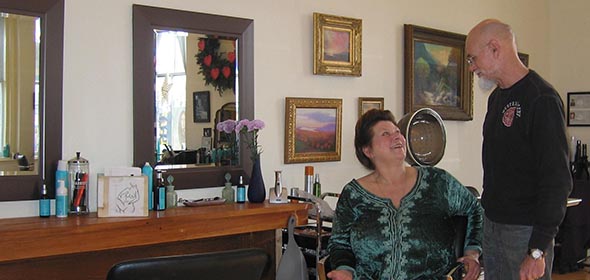 "We're a team. I really feel that, under this roof, we have some of the best hairstylists in the Hudson Valley, all with their own specialty," is how Ginny Robinson explains the unique co-op concept of At The Top Salon in the heart of Rhinebeck.
The nine stylists who work their magic are individual business entities who happen to enjoy working together in the beautiful, gallery-like space at the top of the stairs on Montgomery Street.
Ginny and Charles Robinson, started one of the first unisex salons in Rhinebeck back in 1976, at a time when hair spray and rollers were replaced with blow-dry and wash 'n' wear.
"We believed in natural hair-cutting and offering natural products," Ginny said. "I feel that the co-op is the way of the future and that everybody gets out what they put into it. Because everyone takes care of themselves and there is no boss, they put their best foot forward. Sometimes we come to work and we can forget all our other problems. It's very healing to work with people when you can make them feel good about themselves, and in return it makes all of us feel good."
AnneMichelle Radcliffe (www.annemichellehair.com) is particularly talented at making her clients feel better. Not only has she won both an Emmy Award and a Designing Woman Award as a stylist in the entertainment industry, but she is also a cancer image consultant, using her skill and experience to restore self-esteem to those with hair loss issues.
"The co-op is an excellent business model," AnneMichelle said. "I wanted to build my clientele, and now I have also been able to refer clients to the other stylists. It's always been a pleasure and a treat to be in Rhinebeck. I think it's a wonderful and diverse community of very intelligent, creative, and dynamic people."
The presence of striking, diverse art pieces throughout the bright space is fascinating. "I started talking to artists and asking them to bring their work here," Ginny said. "Customers love viewing it when they come. We feel that we can, so we surround ourselves with local art."
Her husband, Charles Robinson, is an artist whose numerous talents include making one-of-a-kind Adirondack furniture, always on display here. "With the whole degeneration of the economy, we want to support the artists," he said. "The general consensus in this community is a very sincere support of the arts."
The space lends itself to even more use: it is available to rent for small private parties or fundraisers (up to 50 people). Educational forums, jewelry shows, and Occupy Northern Dutchess meetings are examples of such events held At The Top. And Ginny and Charles are planning a craft fair in 2014.
"We've seen so many families grow," Ginny said, "it's really special. We love the people in this area. Rhinebeck is one of the greatest towns we've worked in. It's the people and the fellow store-owners; I'm grateful and thankful for everyone's help and support. We want to thank everyone for a great year of business. We couldn't have done it without our clients."
At The Top Hair Salon
6400 Montgomery Street, 2nd floor
Rhinebeck
845-876-0330
www.rhinebeckhairsalon.com
atthetop@rhinebeckhairsalon.com
Facebook Comments