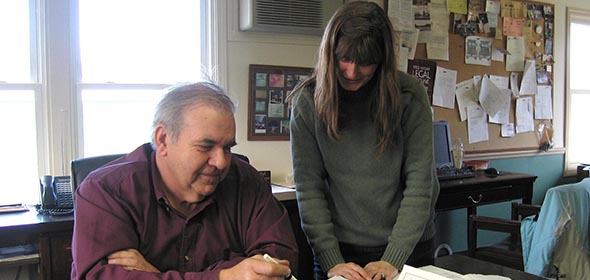 By his own admission, Tom LeGrand has done it all: "I've owned land, I've built houses, I've built housing developments… I didn't learn it in a book. Education is learning how to learn," he said.
LeGrand's professional experience goes well beyond this. He opened LeGrand Real Estate in Rhinebeck in 1992, having already worked in construction and housing development for almost 20 years. "I feel I have a lot of expertise because of my construction background and my business background," Tom said.
His business background includes bank director, Rhinebeck Chamber of Commerce president from 1982 to 1992, chairman of the Dutchess County Economic Development Corporation from 1992 to 1995, chairman of the board of the Dutchess County Water and Wastewater Authority for 10 years, and chairman of the board of Dutchess Community College for 20 years.
"I've been fortunate," he said. "Through my business and connections in different organizations, I've met a great bunch of people."
Tom grew up in Rhinebeck from the age of five.
"My father worked all over this state" as a traveling salesman, he said. "When he hit Rhinebeck, for the first time in his life he found home."
Operating a full-service brokerage means that, in addition to his four agents, Tom can call upon an network of engineers, architects, and bankers for providing services such as commercial and residential property development and management, Health Department approvals, and building code compliance. Excavation services are available through the sister company, Thomas LeGrand Excavation, Inc.
"What creates a demand for real estate more than anything is jobs and job creation," he explained. "Prior to the current recession, we saw a lot of people living in the area who were able to sell their modest homes and upgrade to a new home. We had simultaneous closings."
Because of the economy, Tom said he has witnessed a change in the mindset of today's homebuyer. "They can't spend a large percentage of their income on housing. The trend of homes built now will be very efficient, on a small land parcel, with a smaller utility bill. The new technology is amazing. The building materials have changed, and the energy efficiency has really changed. Home prices have been falling for three years and are probably at the bottom now," he explained.
Elaine Tate is a local resident who depends on LeGrand's many services. "Tom has done several projects for me," she said. "Because he is so involved in the community, he has his finger on the pulse of what is happening in our current housing trends. The market is always changing, fluid, and I can keep up by listening to what Tom says."
Twelve years ago, Tom and his wife, Marilyn, and their two sons, Alexander and Cramer, moved to Red Hook.
"I love it," he said. "These communities have provided myself and my family with a quality of life that is second to none, so my policy in life is to give back. I'm a good salesman for the community because I really believe in it."
Facebook Comments