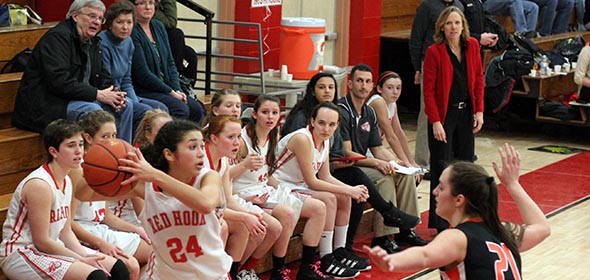 The Red Hook Lady Raiders had a chance to clinch the MHAL Division II title with a win against the Marlboro Dukes on Feb. 18, but in what turned out to be a tight overtime match, during which Red led by as many as 12 points, they lost 55-51.
Red owned the hardwood in the first quarter, countering Marlboro's height and rebounding ability with speed and pushing the ball effortlessly. Kyla Gabriel connected with Julianna Wilkinson for the Lady Raiders' first basket of the night. Gabriel would score again at 4:57 on a streaking lay-in and once more at 1:53 on a back-breaking, off-the-glass shot, and sink two free throws to come out of the quarter with a period-high six points. Red Hook led 14-6 going into the second quarter.
Wilkinson and Ashley Pica had two two-point field goals each in the second quarter. Pica buried a short set shot from the bottom of the key at 5:55 and again from the same place on a dish from Gabriel at 4:27. Wilkinson sank a running floater at 3:45 and Red Hook entered the bonus at 2:15, with Gabriel going two-for-two from the stripe. At the half, Red led 28-16.
In spite of a pair of field goals to open the quarter for Red Hook, including a baseline floater from Wilkinson and a set shot from the stripe from Tessa Stortini, the Lady Raiders began to lose control in the third. Marlboro scored their first basket outside the paint at 3:55 and, by the end of the quarter, they cut Red Hook's lead to six, 39-33.
A shaken Red Hook team coughed up several passes early in the fourth, and the Lady Dukes took their first lead of the game at 6:11. The Lady Raiders and the Lady Dukes swapped leads, and Marlboro claimed the ball on a foul with the game tied with :10 left on the clock; Marlboro failed to convert on a long jumper, sending the game into a four-minute overtime with the score 47-47.
Marlboro outscored Red Hook 17-11 in the third and 14-8 in the fourth.
Gabriel and Wilkinson each had a field goal in overtime, but the Lady Dukes took a 53-51 lead at :22 and iced the game with a pair of free throws.
"We just did not play well. That's it. Our goal was to hold them to 50 and we obviously did not do that – we had more than 15 turnovers," Red Hook head Coach Pam White told The Observer after the game.
Marlboro won the MHAL Division II title against Rondout the next day.
Facebook Comments