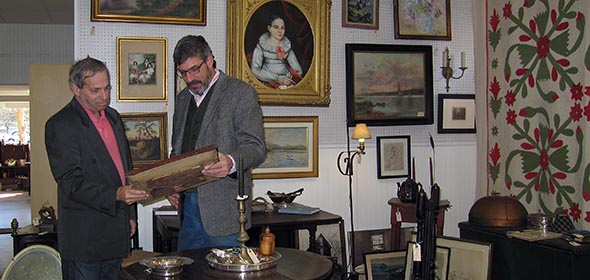 Rapid progress are two words not associated with antiques, but the new Rhinebeck Antique Emporium reveres the treasures of the past while embracing modern technology to satisfy customers efficiently.
Jay Grutman bought the building on Route 9 (just south of Dinsmore Golf Course) in October 2011 and decided that an antique store would be the best choice for the location. After extensive exterior and interior renovation, the first rooms were ready one year later, and in late January, 21 vendors were doing business seven days a week. When it is all finished, 35 vendors and 18 display cases will offer quality jewelry, tapestries, furniture, porcelain and art, as well as offering services that include art and real estate appraisals and repair, decorating, and shipping. The number of vendors at the Emporium can fluctuate, since the spaces are designed to be flexible, depending on the vendors' needs.
In addition to cosmetic appearance, an important part of the renovation was installation of modern technology, including wifi, alarms, and central air conditioning/heating. "When I was designing the layout," Jay explained, "I wanted the space to feel comfortable, more of a destination than a scavenger hunt. I have a following of dealers and designers who depend on quality and authenticity. I won't take reproductions, and I don't want it to be a job in itself to find desired items."
Jay has 25 years of experience in the appraisal of estates and art. As an undergraduate at Sarah Lawrence, he worked at the Channel 13 PBS auctions, which led to a job cataloguing antique furniture at the Phillips Auction Gallery in New York City. He also was an investment banker until retiring 11 years ago. He built his house in Rhinebeck 27 years ago and had been looking for a location that was just right for a gallery of some kind.
"I have a lot of experience, both from an investment standpoint as well as expertise in the arts and antiques fields," Jay said. "I understand as a consumer/collector and also from the dealer standpoint what they are looking for. I can meld the two philosophies."
Joe Nuccio is manager of the Emporium. During a lifelong career in antiques, he was most recently the manager of the Hyde Park Antiques Center. "I came in and started talking to Jay about a space," he said. "Before you knew it, he was offering me a job. I was able to help him set up the area the way it is now. The networking was phenomenal. Without a doubt, Jay has great ideas for bringing people in."
There is a close interaction amongst vendors, who include dealers, set designers, and private collectors. "Meetings provide us with continuous feedback as to what is needed and what I need from them," Jay explained. "We all know how to work together for all our best interests."
Jay is committed to expanding and improving their search services via the internet. "If somebody comes in and doesn't find specifically what they're looking for, we use our network to bring a piece into the gallery," he said. He also is considering the possibility of on-line auctions in the future.
Jay added, "The most important thing is that people know we are here, know exactly who we are, and what we are striving for."
Rhinebeck Antique Emporium
"History's Attic"™
5229 Albany Post Road
Staatsburg
Hours: Mon.-Sun. 10am-5pm
845-876-8168
845-889-4462 (fax)
www.rhinebeckantiqueemporium.com
rhinebeckantique@aol.com
Facebook Comments